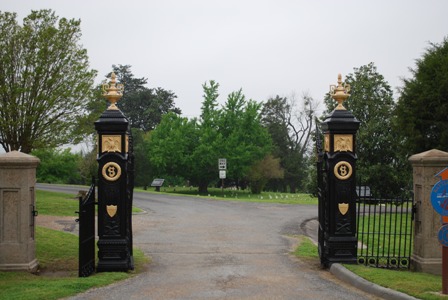 News Release Date:
October 16, 2009
Contact: Rick Martin, 601-619-2905
Road work will begin at Vicksburg National Cemetery on Monday, October 19, 2009, and is expected to be finished by December, 2009. During this time, the Vicksburg National Cemetery road will be closed to vehicular traffic and may be closed to pedestrian traffic. 
Vicksburg National Military Park received funding through the American Recovery and Reinvestment Act (ARRA) to repair the road that winds its way through the Vicksburg National Cemetery. The contract was awarded to Ergon Terminaling Inc., to complete the work. The project consists of rehabilitating 7/10ths of a mile of road to include replacing 170 linear feet of concrete gutters, wedge and lever 400 linear feet of road surface, and overlay the road. The work will improve road conditions and drainage in the National Cemetery.
Chief of Operations Rick Martin indicated that there may be periods of time that the Vicksburg National Cemetery will be closed to vehicular traffic and may be closed to pedestrians at different times during the project. Vicksburg National Cemetery is administered by Vicksburg National Military Park. If you plan on visiting the National Cemetery, you may want to call ahead to check on closures at (601) 636-2199, or visit the park's website at www.nps.gov/vick.