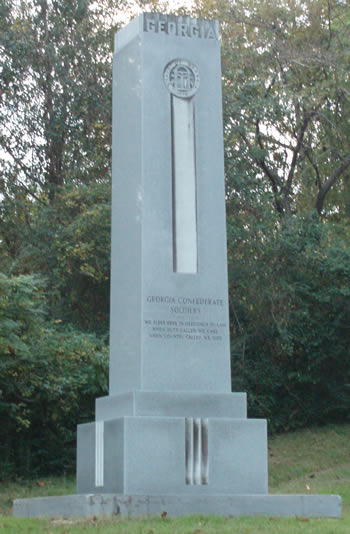 News Release Date:
June 23, 2011
Contact: Superintendent, 601-636-0583
The public is invited to review and provide comments on the
Environmental Assessment for the proposed Improvement of Access to the Georgia State Memorial, Vicksburg National Military Park
. The Georgia State Memorial is included in the National Register of Historic Places which encompasses all of Vicksburg National Military Park, and is on the park's List of Classified Structures.
Dedicated in October 1962, the memorial is located on the South Loop of the VNMP tour road, approximately 300 ft from Tour Stop 14 (Ft. Garrott) and is isolated from the tour route. Originally situated on the park tour road, the memorial stands on the roadbed which connected the current park tour road with Confederate Avenue now located outside the park's southern boundary. In the mid-1960s, Congress directed that the lower third of VNMP be turned over to the City of Vicksburg, and the property was quitclaimed to the city. Consequently, the park's tour road was turned into a 'closed loop' route within the park by removal of the pavement between the park tour road and city-owned road. While traveling the park tour road, attention is predominantly focused on the Ft. Garrott earthwork at Tour Stop 14, and the visual presence of the Georgia State Memorial is often missed. Additionally, access to the memorial is currently along the grassed former roadbed raising issues concerning accessibility and visitor safety.
The purpose of the EA is to analyze potential impacts to the human environment arising out of the proposed project. The document examines three alternatives for addressing concerns regarding improving access to the monument's location, including taking no action.
The EA for this project can be viewed at the National Park Service's Planning, Environment, and Public Comment (PEPC) website:
https://parkplanning.nps.gov/vick
The public is invited to meet with park staff on-site (Tour Stop 14) on July 13, 2011, at 10:00 a.m. and 3:30 p.m., to discuss the project's proposed alternatives.