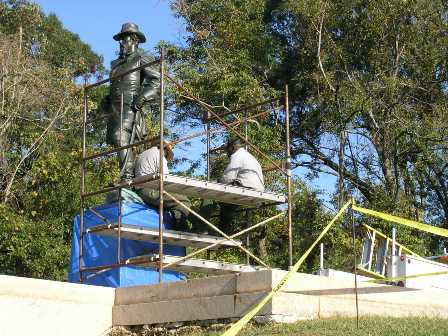 News Release Date:
October 22, 2008
Contact: Terrence Winschel, (601) 619-2908
Contact: Visitor Desk, (601) 636-0583
A National Park Service Centennial Partnership Celebration will be held Thursday, October 30 at 10 a.m. at Vicksburg National Military Park Visitor Center, Vicksburg, Mississippi. The Vicksburg Centennial Challenge Project partner, the Friends of the Vicksburg National Military Park and Campaign, matched the $71,000 in federal funding with an equal amount of private donations for historic battle marker replacements to conserve the magnificent array of bronze statuary and stone monuments that make Vicksburg, in the words of one Civil War veteran, "the Art Park of the world."
The first group of historic markers to replace those removed in 1942 as part of the scrap metal drive to support America's efforts in World War II will be unveiled as part of the celebration.
The National Park Centennial Initiative is a 10-year program to reinvigorate America's national parks and prepare them for a second century of conservation, preservation and enjoyment by embracing new constituents and gaining support from a broad array of public and private partners. The National Park Service manages 391 park units. The centennial is August 25, 2016.
MEDIA NOTE: Please report to the media sign-in tent and be in place by 9:30 a.m. A riser will be available. Credential information is available October 27, 2008. Call Terry Winschel at 601-619-2908 or 601-636-0583 for more information. National Park Centennial web page www.nps.gov/2016 .
Vicksburg Post News Article:  Interior Secretary, Singer to be Here for Park Party by Steve Sanoski. Published: Wednesday, October 22, 2008 2:14 PM CDT.