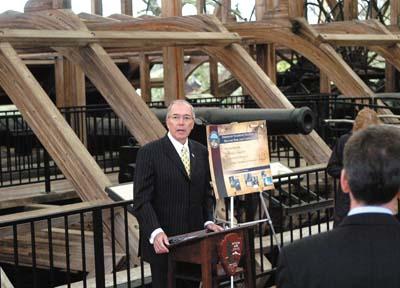 News Release Date:
February 27, 2008
Contact: Monika Mayr, Superintendent, 601-619-2902
Parks need partners, history leader says

By Lauchlin Fields, Article from Vicksburg Post
[02/22/08] Civil War battlefields need public-private partnerships such as the one created here, said John Nau, who chairs the Advisory Council on Historic Preservation to which he was appointed by President Bush.

Visiting the Vicksburg National Military Park on Thursday, Nau said the partnerships help raise awareness of the parks as well as helping fund ongoing projects.

"There's one important fact -- you cannot (completely) fund preservation by state or federal (money). There are too many assets. The story is too great," said Nau, who was in town for the official announcement that Friends of the Vicksburg National Military Park and Vicksburg Campaign had been formed. "You have to have a bridge -- and that's a public/private partnership. In our opinion, (Friends) is the best way to handle these assets."

Park Superintendent Monika Mayr said Thursday was a day to celebrate, not only because of the birth of the Friends group, but also the park's 109th birthday.

"We have an opportunity to achieve a margin of excellence. I can think of no better birthday present than the launch of this group," she said. "It's a great day for the park and a great day for the community."

A group of locals -- with the help of Nau and Mayr -- began forming the Friends group last summer. Since then, they have received tax-exempt status and formed a nine-member board, as well as a small, volunteer staff. A Web site, www.friendsofvicksburg.org, has also been created to explain the group's mission and outline various ways to contribute. Members may adopt a monument by providing funds to maintain one of the 1,300 sculptures, monuments, markers or tablets that fill the 1,800-acre park. Friends may also provide different levels of giving through annual memberships with funds going toward various park projects.
Harry McMillin, a park volunteer and executive director of the new group, said similar groups have been successful in other Civil War battlefields, including Gettysburg, Antietam, Shiloh and Chickamauga.

The importance of a Friends group is increased by the fact that 144 metal tablets were taken from the Vicksburg battlefield during World War II for the war effort and never replaced, Nau said.

"I have never heard of a group of missing monuments -- that's phenomenal," he said. "This is an opportunity to do something ... to create a whole new battlefield -- to replace and restore to a condition it was at the creation of the battlefield. It creates a whole new experience for a future generation of tourists."

McMillin has said the group hopes to raise $60,000 in its first year through memberships and donations. Eventually, he hopes that will increase to provide the park with up to $100,000. So far, even before the official announcement of the group, four members have joined the effort. The first patron member -- the highest level of membership with a donation of $100 or more -- was at the celebration. Vicksburg native William Bobb said he jumped at the opportunity to support the group's mission.
"It piqued my interest. Normally I'm not one to jump out in the middle of things," he said. "It feels good -- it's nice to do something to make Vicksburg even better."

Nau, CEO of Silver Eagle Distributors, one of the nation's largest distributors of Anheuser-Busch products, said he has a personal relationship with Vicksburg. He first visited the battlefield in 1962 and has made many return trips. He said his efforts to help preserve VNMP are part of a shared vision President Bush and first lady Laura Bush have. In 2003, the president and his wife created Preserve America, an effort to protect and celebrate heritage and use historic assets for economic development, community revitalization, and education and heritage tourism programs. Just this past year, Vicksburg was recognized as a Preserve America community.

Nau said he told the president he would be coming to Vicksburg to announce the creation of the local Friends group and received his blessing.

"He believes in the maintenance and preservation of our battlefields -- it can only improve the experience," Nau said. "It's an economic benefit to Vicksburg."

He believes the Friends group will continue to grow and be a catalyst for the park.

""The Vicksburg battlefield has to be able to share with future generations," Nau said. "What we're doing today will be nurtured, will be preserved and will be restored. You're creating history with the announcement of Friends."

VNMP has the largest number of monuments, statues, tablets and markers of all the Civil War battlefields. Each one helps commemorate the campaign, siege and surrender of Vicksburg on July 4, 1863.