Date:
April 14, 2008
Contact:
Monika Mayr, Superintendent
, 601-619-2902
Contact:
Virginia DuBowy, Natural Resources Manger
, 601-636-0583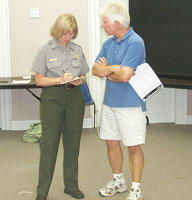 Vicksburg, Mississippi – Vicksburg National Military Park, along with contractors, Wiss, Janney, Elstner Associates, Inc., John Milner Associates, Inc., and MacTec Engineering and Consulting, Inc., will hold its second open house to present the draft alternatives identified for the Cultural Landscape Report/Environmental Assessment project currently underway. The public is invited to provide their input on these draft alternatives, as well as the Purpose, Objectives, and Issues leading to their development.
The open house will be held inside the park at the Old Administration Building (disabled accessible), on Thursday, April 17, 2008, from 3:00 – 7:00 pm.
Comments can be submitted at the meeting, or can be mailed to the attention of the Superintendent using the form provided in the April 2008 newsletter (copies available at the park Visitor Center, public meeting, and online at www.nps.gov/vick). Comments can also be submitted electronically to the NPS Planning, Environment and Public Comment (PEPC) web site at the following web address:
https://parkplanning.nps.gov/VICK/
Faxed comments, e-mails, and telephone messages will not be accepted. Deadline for comments is May 2, 2008.