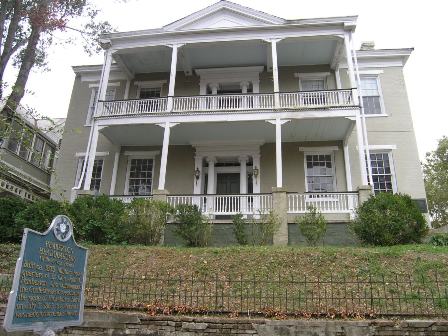 News Release Date:
May 22, 2008
Contact: Rick Martin, Chief of Operations, 601-619-2905
Vicksburg National Military Park
Opens Pemberton's Headquarters to Visitors
Vicksburg National Military Park will open Confederate General John C. Pemberton's Headquarters (Willis-Cowan House) on Mondays, starting May 26, from 9:00 am – 4:00 pm.  
The house will be open to the visitors every Monday for the months of June and July. Pemberton's Headquarters is located at 1018 Crawford Street, Vicksburg, MS.
Pemberton's Headquarters is one of many historical homes in the City of Vicksburg. Martha Willis was the original owner of the home and purchased it in 1836. She was the daughter of Major Burwell Vick, brother of Reverend Newit Vick. Vicksburg would be named after Reverend Vick. 
Confederate General John C. Pemberton used the house from May 23 through July 4, 1863 as his headquarters during the Siege of Vicksburg, which is the major factor that gives the house its historical significance.
The Cowan family would purchase the house in 1890 and that family would reside in the house until 1914. In 1919 the Sisters of Mercy acquired the house and referred to it as St. Anthony's Hall. The Sisters of Mercy used it as dormitories, a nursing school and then as St. Francis Xavier Kindergarten. In 1970 the house was listed on the National Register of Historic Places.
Pemberton's Headquarters reverted to private hands and was sometimes open for tours and also as a bed and breakfast establishment. In 2003 the house was deeded over to the United States Department of Interior, National Park Service.