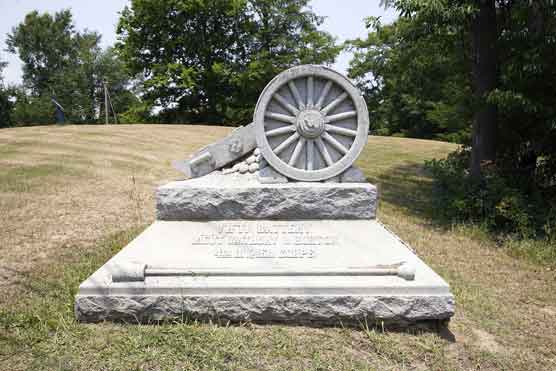 News Release Date:
July 29, 2013
Contact: Nikki Leist, 601-636-7395
Every Wednesday, from July 31 through August 28, 2013, Vicksburg National Military Park rangers will present a special program on the history of the park's monuments, and open the historic Shirley House (Tour Stop #2) for public tours. Monumentation talks will begin at 9:00 a.m. at the park's Visitor Center, while the Shirley House will be open from 8:30-10:30 a.m.
What happened to the battlefield after 1863? How did all the giant granite monuments actually arrive in Vicksburg? Who was the artist that created the most sculptures for the park? These and many more interesting questions about the monumentation of Vicksburg National Military Park will be addressed. Once called the "art park of the world" by a visiting Civil War veteran, the park is also considered one of the best-marked battlefields in the world. Although originally preserved as a teaching example by the War Department, this "art park" can now also be seen as a haven for wildlife and a place of exercise and recreation, in addition to its main function as a memorial to the events that occurred during the campaign, siege, and surrender of the city in 1863. Join park staff for a great way to start your first battlefield tour, or learn a little more about the park after a morning jog!
Park staff will also be available at the historic Shirley House every Wednesday morning throughout August, offering visitors the rare chance to step inside the only home left standing on the battlefield during the siege.
For more information on these special programs, contact Park Ranger Nikki Leist at (601) 636-7395 or stop by the Visitor's Center on Wednesday mornings in August. Admission to the Vicksburg National Military Park is $8.00 per personal vehicle, and all applicable Vicksburg and National Park Service annual passes are accepted.
These programs are part of Vicksburg National Military Park's Sesquicentennial outreach effort, 'Along the Campaign Trail,' which includes programs conducted by a dedicated team of interpreters during a year-long effort to bring the story of the Campaign and Siege of Vicksburg not only to park visitors, but to schools, libraries, museums, and civic organizations throughout the region.
Information regarding entrance fees or programs can also be found on the park's website at www.nps.gov/vick or calling 601-636-0583.