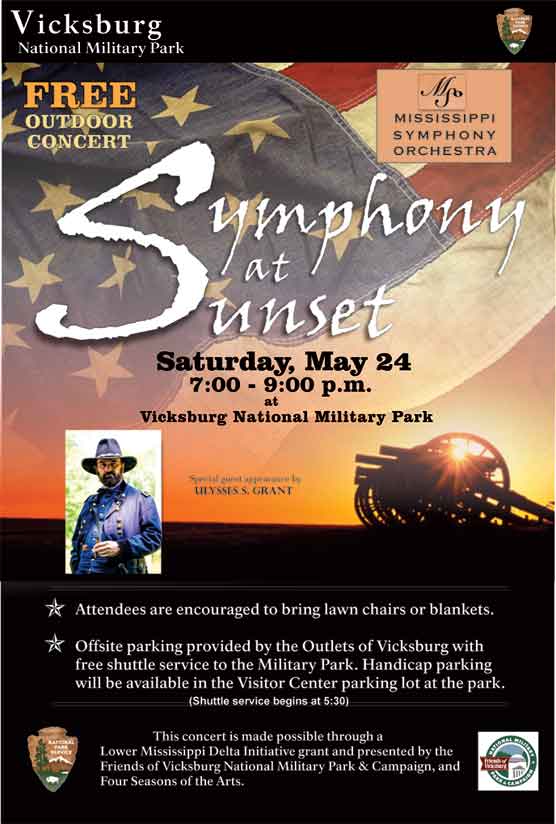 News Release Date:
May 15, 2014
Contact: Bess Averett, Exec. Dir., Friends of VNMP & Campaign, 601-831-6896
Friends of Vicksburg National Military Park and Campaign is partnering with Four Seasons of the Arts, Vicksburg National Military Park and the Mississippi Symphony Orchestra to provide a Pops Concert at no charge on the hallowed grounds of Vicksburg National Military Park to commemorate Memorial Day Weekend. The concert will be Saturday, May 24 at 7:00 p.m. on the grounds of the park in front of the VNMP Visitor Center. Handicapped parking is available in the VNMP Visitor Center parking lot. Offsite parking is available at the Outlets of Vicksburg with free shuttles running from 5:30 p.m. until the last guest leaves the park.
"With the extreme success of last year's Sesquicentennial Concert Series, we immediately began to plan how we could turn a concert in the park into an annual event," said Francis Koury with Four Seasons of the Arts. "The pops concert will be a mix of popular and patriotic music. It will be a wonderful way to commemorate Memorial Day in such a special place."
The concert will feature a special appearance by Major General Ulysses S. Grant and it will be the cornerstone of a weekend full of special programing in honor of Memorial Day at VNMP. Throughout the weekend there will be artillery firings at the Visitor Center area; a special exhibit, Soldiers Thru the Ages; flags placed at every grave in the National Cemetery; and a Wreath Laying Ceremony at the National Cemetery on Monday.
"We want both the community and visitors to bring their lawn chairs and blankets and join us for an evening of music in a truly sacred place. There is something very special about hearing music, especially patriotic music, on hallowed ground. It is the perfect way to honor the men and women who have died in service to our nation," said Bess Averett, Executive Director of Friends of VNMP and Campaign. "We are so pleased to be able to partner with MSO and Four Seasons of the Arts to bring this event to Vicksburg. And we are forever grateful to the dedicated staff of VNMP for supporting and encouraging unique programming like this at our park."

Friends of VNMP and Campaign received a generous grant from the Lower Mississippi Delta Initiative through the National Park Service to make this concert a reality. The grant also included a special concert and program to introduce every Kindergarten through 3rd grader in Warren County to the Orchestra earlier this year at no charge. LMDI grant funds, Trustmark National Bank, and generous sponsors from both Friends of VNMP and Campaign and Four Seasons of the Arts have made this event possible for the community.

For more information, contact Friends of Vicksburg National Military Park and Campaign at 601-456-0804 or visit www.friendsofvicksburg.org or contact VNMP at 601-636-0583.