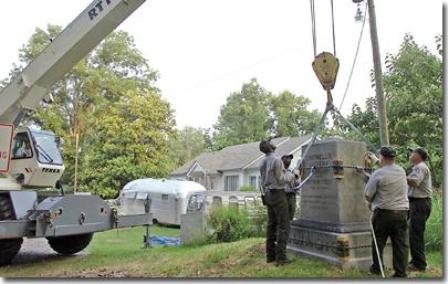 News Release Date:
July 23, 2008
Contact: Terrence Winschel, Historian, 601-619-2908
Contact: Louis J. Cooper, 601-619-2109
Contact: Garry Lee, 601-636-0583
July 21, 2008
Vicksburg Post Article "History makes a move into national military park" by Steve Sanoski.
More than 40 years after 24.4 acres along Sherman Avenue were turned over to Warren County by the National Park Service, three Civil War monuments were moved Sunday from the county roadside to the Vicksburg National Military Park.

"We're doing it primarily for safety concerns. There's been a steady increase in traffic flow over the years on this twisting, narrow road, and we don't want these monuments to be involved in any vehicle accidents," said VNMP Historian Terry Winschel. "We've been talking about it for years, and it's finally gotten to be a high enough priority."
Two Illinois monuments - one honoring Company F, 1st Illinois Light Artillery, a second Cogswell's Battery Light Artillery - and a third depicting Union Col. Adolph Engleman were moved to North Union Avenue in the park. The monuments are two of a total of 79 situated in the park and around Vicksburg commemorating the thousands of Illinois soldiers who took up arms in the historic siege of the city in 1863.

"Fully one-half of the Union soldiers in Vicksburg were from Illinois," said Winschel. The domed Illinois Memorial is one of the park's most dominant, most visited and most photographed. All states that sent soldiers to participate in the fighting here have placed stone and metal designs to commemorate their service and mark locations where specific events occurred.

Of the approximately 1,330 total monuments, tablets and plaques in Vicksburg honoring those who fought in the Civil War, "several hundred" are located outside of the park boundaries, estimated Winschel.

"We only move them once in a blue moon," said Winschel. "Once in a while we move monuments in the park if they're threatened by erosion, but in most cases we're only moving them a few feet. The last time we moved a monument from outside to inside the park was probably the early 1970s."
The monuments moved Sunday were placed on Sherman Avenue in the early 1900s when it was known as North Ridge Road, Winschel said, and were joined by about 20 others along the roadway. After the land was quitclaimed to the county in 1964, most of the monuments on Sherman Avenue were moved to within the new park boundaries. When Winschel began working at the park in 1977 only five monuments remained along the road.

"Adjacent landowners requested that those monuments be left in their places, and agreed to take care of maintaining the ground around them," said Winschel. "Some of the original owners have moved on, and the grounds around the three monuments we're moving are not being properly maintained."

Winschel said he did not have an estimate of the cost of moving the monuments. The Warren County Sheriff's Department aided park employees Sunday by directing traffic as the granite monuments - which measure about 6 feet tall and weigh thousands of pounds - were slowly moved one by one onto a flatbed truck by a crane.

"The monuments are in sections, so we're able to move them piece by piece into the park and reassemble them," Winschel said.

Two monuments will remain on Short Sherman Avenue, just off Sherman Avenue. One is an Illinois monument and another bears the likeness of Union Col. Stephen Hicks.