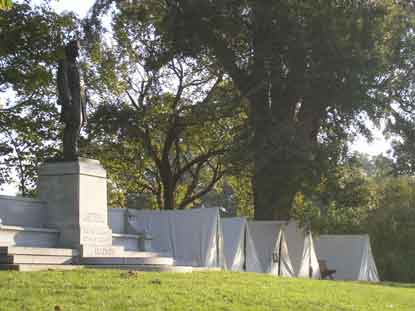 News Release Date:
April 30, 2013
Contact: Rick Martin, 601-619-2905
On Saturday, May 4, and Sunday, May 5, 2013, Vicksburg National Military Park will sponsor living history programs highlighting the 150th anniversary of the Vicksburg Campaign.
125 volunteers representing Union and Confederate units that were at the Siege of Vicksburg will be stationed in different areas of the park. Visitors will be able to talk with the volunteer reenactors about different aspects of the siege.
The soldiers will be at the Shirley House, Stop 2 on the Tour Road, The 3rd Louisiana Redan, Stop 3, The Stockade Redan Attack, Stop 5, Stockade Redan, Stop 10, and Fort Garrott, Stop 14. Programs will be offered 9:00 AM - 4:00 PM at the various stops.
Admission to the Vicksburg National Military Park is $8.00 per personal vehicle, and all applicable Vicksburg and National Park Service annual passes are accepted. The park is open from 8:00 am to 5:00 pm daily and information regarding entrance fees or programs can be found on the park's website at www.nps.gov/vickor calling 601-636-0583.