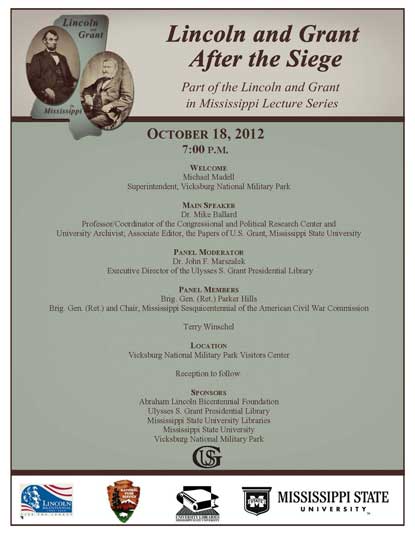 News Release Date:
October 5, 2012
Contact: Michael Madell, Superintendent, 601-619-2902
As part of the Lincoln and Grant in Mississippi lecture series, Vicksburg National Military Park will host a scholarly forum entitled Lincoln and Grant after the Siege on Thursday, October 18, at 7:00 p.m. in the Visitor Center auditorium. A reception will follow afterwards. This program is free to the public.
The forum will feature a speech by distinguished Civil War scholar Dr. Mike Ballard, who is well known to Civil War enthusiasts in this area for his publications on Vicksburg and Mississippi during the war. In addition to his post as Coordinator of the Congressional and Political Research Center at Mississippi State University, Ballard is also Associate Editor of the Papers of U.S. Grant.
Following Ballard's speech, Dr. John F. Marszalek, Executive Director of the Ulysses S. Grant Presidential Library, will moderate a scholarly panel consisting of Brigadier-General(Ret) Parker Hills, who currently serves as Chair of the Mississippi Sesquicentennial of the American Civil War Commission, and Mr. Terry Winschel, author of several Vicksburg Campaign books, and who recently retired as Park Historian at Vicksburg National Military Park.

The event is sponsored by the Ulysses S. Grant Presidential Library, Mississippi State University, and Mississippi State University Libraries. Funding for the programs was made possible by a grant from the Abraham Lincoln Bicentennial Foundation, dedicated to perpetuating and expanding Lincoln's vision for America and completing America's unfinished work.
For further information on Vicksburg National Military Park, please visit the park's website at www.nps.gov/vick/