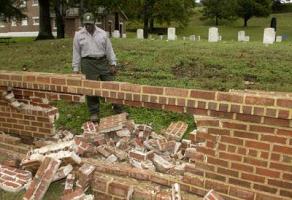 News Release Date:
October 23, 2006
Contact: Rick P. Martin, Chief of Operations, 601-619-2905
By Constance Anderson-White, The Vicksburg Post
[10/20/06] Vicksburg National Military Park officials are searching for a vehicle they say damaged a recently renovated brick wall at the Vicksburg National Cemetery Wednesday night or Thursday morning.

Maintenance workers spotted the hole shortly after 8 a.m. Thursday while making daily rounds, said 57-year-old Melvin Jackson, the cemetery's supervisor.

"Whoever hit it must have a pretty messed-up car," Jackson said. "And, if you look at the tire tracks, it doesn't even look like they slowed up."

Jackson said, in his 26 years with the cemetery, the wall has been hit one or two times.

Patty Montague, the park's supervising ranger, said that during the past six months $414,000 was spent repairing the mortar on the wall. The repairs, which included work to headstones and the gazebo, were part of a project to clean up the cemetery.

"This is just very unfortunate because we just got all of that done," she said. "This wall was built in 1874, so we can't just get anybody to come out and repair it. We have to find the matching fabric of bricks that comprise the wall."
Because of those concerns, Montague said, she doesn't know how much the repairs will cost or how long they're going to take.

Several parts of the car that caused the damage were found at the scene, and paint was found on the bricks, said park historian Terry Winschel.

Park rangers are asking local law enforcement officials to be on the lookout for a light blue Pontiac Firebird with damage to the front right side.

"If we can track this person down, we can get their insurance company to pay for the damages," Winschel said. "If we can't find the person, the cost of repairs will have to come out of our budget at the expense of other programs in the park."
Anyone with information is asked to call the park at 601-636-0583.