Date:
August 11, 2011
Contact:
Michael Madell
, 601-636-0583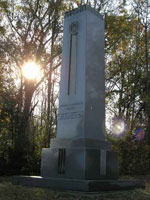 On August 10, 2011, the National Park Service Southeast Regional Director signed a Finding of No Significant Impact (FONSI) for the Environmental Assessment completed for improving access to the Georgia State Memorial in Vicksburg National Military Park. The FONSI is now posted on the Planning, Environment and Public Comment (PEPC) website at https://parkplanning.nps.gov/vick, in the 'Document List' section, and also on the park website at https://www.nps.gov/vick/parkmgmt/projmgmtdoc.htm.
Alternative B (Relocation of the Georgia State Memorial), was the preferred alternative examined in the Environmental Assessment, and was selected as the alternative of choice.The memorial will be moved approximately 300 ft closer to the park tour road, while still remaining in an area of historical integrity, resting along the line occupied by Brig. Gen. Alfred Cumming's Georgia Brigade during the Siege of Vicksburg. This alternative will provide improved visual access from the vehicles traveling the tour route. Placing the memorial closer to the Tour Stop 14 parking area will allow visitors a better approach to the memorial from the roadside, ensuring better health, comfort, safety, and security, as well as complying with applicable accessibility regulations.

The preferred alternative was also designated as the environmentally preferred alternative, and through the Scope of Work developed for the project, will provide for cultural landscape rehabilitation in the project area.