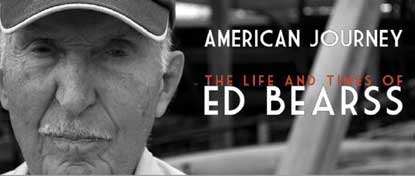 News Release Date:
November 6, 2014
Contact: Tim Kavanaugh, 601-619-2908
Historian Ed Bearss to Attend Movie Screening "The Life and Times of Ed Bearss" at Vicksburg National Military Park
Vicksburg, MS–On Friday, November 14, 2014, at 7:00 PM, Vicksburg National Military Park will host a free special screening of an hour-long video "The Life and Times of Ed Bearss". National Park Service Chief Historian Emeritus Ed Bearss will be in attendance to comment on the biographical documentary of his life as well as to autograph purchased copies of the DVD and other books he has authored.
From the disc notes:
"Ed Bearss is one of the nation's most renowned historians. An authentic American character, he rose from humble beginnings on the majestic plains of central Montana to become the most recognized face of the Civil War battlefield preservation movement in the latter half of the 20th century. Grievously wounded in the Pacific during World War Two, he has used the experience as a tool to teach future generations the value of service and sacrifice. During a long and distinguished career in the National Park Service Ed rose to Chief Historian where he led efforts to save battlefields across the country. Today, he is still going strong at the age of 90, leading tours that keep him on the road more than 200 days a year doing what he loves most;talking about history. Through interviews with some of his closest friends and family, journeys with Ed to sites across the country he impacted the most, we explore one man's incredible life and the power of place that he so fervently champions."
Park hours are 8:00 a.m. to 5:00 p.m. daily with the U.S.S. Cairo Museum opening at 8:30 a.m.
For further information on this or other Special Programs check the park website at www.nps.gov/vick or calling 601-636-0583.
Release Date:November 5, 2014
Contact:  Tim Kavanaugh, 601-619-2908