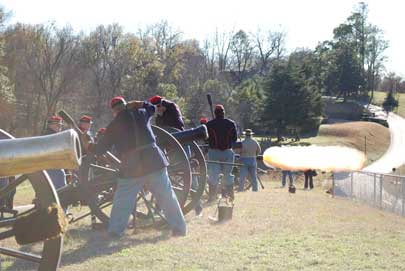 News Release Date:
January 10, 2011
Contact: Tim Kavanaugh, 601-636-0583
On Saturday morning, January 8, 2011, over 100 visitors gathered on the east lawn of the historic 1858 courthouse in Vicksburg, Mississippi, to observe the 150th anniversary of the January 9, 1861, secession of the State of Mississippi from the Union as part of the initial Civil War Sesquicentennial events sponsored by Vicksburg National Military Park. Following the reading of "A Declaration of the Immediate Causes which Induce and Justify the Secession of the State of Mississippi from the Federal Union" and the "Mississippi Ordinance of Secession" by Ranger Tim Kavanaugh from the courthouse steps, the thirty-three star American flag was lowered and the Bonnie Blue flag was raised on the courthouse flagstaff as a four gun battery of cannon fired its salute from the city's waterfront.
Visitors then proceeded to the upstairs courtroom, where Jefferson Davis practiced law prior to becoming President of the Confederacy, to hear local historian Jeff Giambrone speak on the opinions of the black and white citizens of Vicksburg towards secession and of its effects upon them. This was followed by a lengthy question and answer session with Giambrone and Kavanaugh about the social, economic, and political causes of secession and the Civil War.
In the afternoon, the artillery battery was moved to Fort Hill in VNMP for a demonstration and interpretive program commemorating the January 13, 1861, firing from that location on the steamboat "A.O. Tyler" – the first shots of the Civil War in the West.
The day's events were literally the opening volley of Vicksburg's Civil War Sesquicentennial observance, which will climax with the anniversary of the Campaign and Siege of Vicksburg, and the surrender of the city to General Ulysses S. Grant and the Union Army and Navy on July 4, 2013.