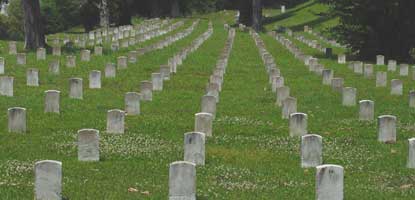 News Release Date:
September 28, 2011
Contact: Kathy Kupper, 202-208-6843
WASHINGTON– Established out of necessity during the Civil War, national cemeteries have evolved from simple burial grounds to national memorials honoring all those who serve. A new online Civil War Era National Cemeteries travel itinerary, developed by the National Park Service and the U.S. Department of Veterans Affairs, is now available at www.nps.gov/history/nr/travel/national_cemeteries. The itinerary commemorates the 150th anniversary of the Civil War by tracing the history and importance of the 116 national cemeteries created before 1870.

"A visit to a national cemetery is accompanied by many emotions – gratitude, awe, pride, sadness," said National Park Service Director Jonathan B. Jarvis. "It is important to honor those buried there and remember that each one of them made sacrifices, many the ultimate sacrifice, to protect our country and our way of life."

Maps, information and essays, including one by Harvard University President Dr. Drew Gilpin Faust, provide insight into the history and role of military cemeteries. The first national cemeteries were started in 1862; a year after the Civil War began. Although first set aside only for those killed in battle, by 1873 any Union veteran of the war could receive burial in a national cemetery.

Today, almost all of the national cemeteries are administered by the National Cemetery Administration of the Department of Veterans Affairs, whose mission is to provide burial benefits to veterans and their families. The National Park Service maintains 14 and the Department of the Army administers two national cemeteries.

The National Park Service's Heritage Education Services and Federal Preservation Institute, the Department of Veterans Affairs Historic Preservation Office and the National Cemetery Administration History Program, and the National Preservation Institute produced the itinerary in partnership with the National Conference of State Historic Preservation Officers. This itinerary is the 52nd in the online National Park Service Discover Our Shared Heritage travel itinerary series. The series supports historic preservation, promotes awareness of history, and encourages visits to historic places throughout the country.