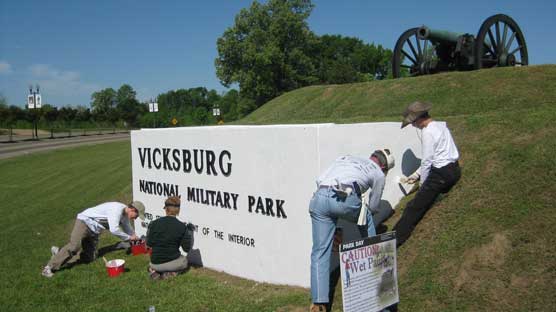 News Release Date:
March 25, 2011
Contact: Virginia DuBowy, 601-619-2911
Vicksburg, Mississippi – Almost exactly 150 years after the first shots of the Civil War were fired, another wave of volunteers is about to descend on America's storied battlegrounds – only this array of dedicated men, women, and even children will be armed with paint brushes, pruners, and shovels.

On Saturday, April 2, 2011, history buffs and preservationists from around the country will team up with the Civil War Trust to help clean and restore America's priceless battlefields, cemeteries and shrines. The nationwide effort – dubbed Park Day – is in its 15th year.  Underwritten by a grant from History™ and endorsed by Take Pride in America, the event also promotes the National Park Service Let's Move Outdoors initiative and 2011 park week theme, Healthy Parks-Healthy People.

At Vicksburg National Military Park, volunteers are needed to help paint the cannon display and main entrance sign at the Visitor Center and clear brush from the Al Scheller hiking trail. Sign-up will start at 8:00 a.m. at the front entrance parking lot located on Clay Street, with the first 75 volunteers receiving a free T-shirt. Come dressed for outdoor work! Wear clothes you don't mind getting covered with paint, or getting dirty. For safety reasons, clothing should include long-sleeved shirts, long pants, tennis shoes or work boots, and work gloves. For those who choose to work on brush clearing, additional hand tools (e.g., loppers, pruners – no chainsaws) are welcome. Come prepared for the sun with a cap, sunscreen, and plenty of water to drink.

This year's park-provided lunch will include an interpretive program with Presidents Jefferson Davis and Abraham Lincoln. Re-enactors George Buss (Davis) and Larry Elliott (Lincoln) will provide first-person presentations on the lives of two of the most prominent figures in American history. The program will start at 12:00 noon at Tour Stop 12.

For more information about Park Day at Vicksburg National Military Park, please contact Virginia DuBowy, Natural Resources Program Manager, (601-619-2911; virginia_dubowy@nps.gov). For more information on Vicksburg National Military Park, go to www.nps.gov/vick/.

With 55,000 members, the Civil War Trust is the largest nonprofit battlefield preservation organization in the United States. Its goal is to preserve our nation's endangered Civil War sites and to promote appreciation of these hallowed grounds through education and heritage tourism. The Trust's website is located at www.civilwar.org. For a complete list of participating Park Day sites, visit http://www.civilwar.org/parkday/.