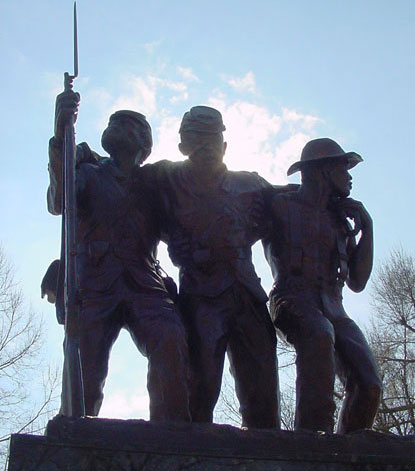 News Release Date:
February 3, 2012
Contact: David Slay, 601-636-0583
Vicksburg National Military Park will celebrate the observance of National Black History Month with a series of special programs and exhibits during the month of February.   Beginning February 4th and running through March 3rd, the park will host an exhibition of the artwork of Kim Sessums at the park visitor center. Entitled "Civil War Tribute," Sessums' sculptures and paintings pay homage to the African-American soldiers who served in the Union Army during the Civil War.

On Friday, February 17th, park rangers David Slay and Patrick Shell will participate in educational workshops for area schoolchildren at the Vicksburg Convention Center. Shell and Slay will give hourly programs on the United States Colored Troops throughout out the morning of the 17th.

At 7:30 am on Saturday, February 18th, in partnership with Shape Up Vicksburg, and in conjunction with First Lady Michelle Obama's "Let's Move Outside" initiative, Vicksburg National Military Park is hosting a Black History Month walk in the park from Sherman Avenue Elementary School to the African-American monument. Programs on the United States Colored Troops and African-Americans in the Civil War will be given near the monument by Mr. James McNair and Dr. David Slay. Walkers should meet at Sherman Elementary. The walk and programs are expected to finish by 10:00am. For further details please see Shape Up Vicksburg's website at http://www.shapeupvicksburg.com/walking_club.html.

In addition, the park also has wayside exhibits along the park tour road by the Mississippi African-American Monument detailing participation of black soldiers in the Vicksburg Campaign, as well as informational waysides placed by the busts of some of the officers who commanded the United States Colored Troops at Vicksburg and elsewhere.

Admission to the park is $8.00 per carload for a passenger vehicle, and all applicable Vicksburg and National Park Service annual passes are accepted. The park is open from 8:00am until 5:00pm daily. Please call Vicksburg National Military Park with any questions about entrance fees or programs at (601) 636-0583. 

We hope you will join us in observing Black History Month, and take this opportunity to learn more about African-American history during the Civil War, and the important part that Vicksburg played in that history.