Did You Hear That? Amphibian Monitoring in Vicksburg National Military Park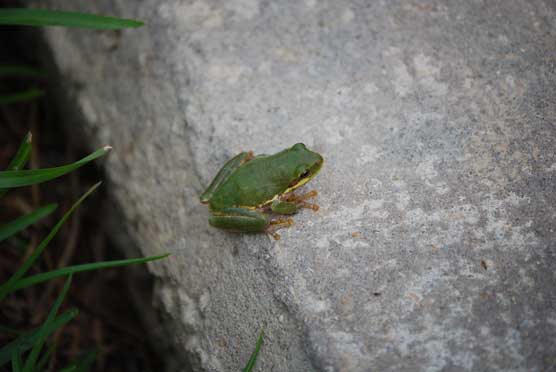 News Release Date:
April 20, 2012
Contact: Virginia DuBowy, 601-619-2911
In late winter and spring frogs and toads can be heard calling during the evening in most places in Mississippi and elsewhere. On warm nights, especially after rain events, more than 20 species of frogs and toads, each with a distinctive call, can be heard in Warren County.

The Mississippi Amphibian Monitoring Program (MAMP) is a volunteer-based statewide monitoring system to help keep track of Mississippi's frog and toad populations. MAMP was first established in 2001; there are now over 60 routes statewide. Each route is surveyed by a volunteer three times a year, in late winter, spring, and summer. The route has ten stops located near wetlands, ponds, streams or other water features. Each stop is monitored for five minutes and all calls heard are recorded according to a calling index.

Vicksburg National Military Park (VNMP) conducts surveys of frog and toad calls as part of MAMP, and as part of the National Park Service's Gulf Coast Network Inventory & Monitoring program. A survey route through the park is conducted after dark during three specified time periods from late January to the end of June. The surveys involve stopping at the same sites each time and recording all frogs and toads heard (and seen) during a five-minute period before moving on to the next stop.VNMP personnel have conducted these surveys since 2010.

National Park Service and U.S. Fish and Wildlife Service participants are required to take and pass a frog-call quiz which provides a self-assessment tool for Park and Refuge observers. By taking the quiz, participants also help improve training materials by understanding what species are confusing, assess observer differences over time, and understand what species are difficult to detect in multiple species choruses.

All Gulf Coast Network parks host breeding populations of diverse amphibian and reptile (herpetofuana) species. Key reasons for monitoring amphibians and reptiles in network parks are: (1) various species are specifically identified in the management objectives of some of the parks; (2) herpetofaunal species are widely considered to be effective indicators of the quality and condition of park aquatic and wetland systems; (3) comparable regional and national programs, methodologies, and datasets exist for herpetofauna monitoring; and (4) some species have, or have the potential, for legal mandates for monitoring under provisions of the Endangered Species Act.

Data gathered on MAMP routes will contribute to information on the distribution of frogs and toads in Mississippi. The data will be added to that gathered around the nation to get a picture of how species are doing through their ranges. Several species of frogs are listed on Mississippi's Species of Greatest Conservation Need list. These species are either already listed as threatened or endangered or there is concern that they will become so. The long-term monitoring provided by MAMP will help get a better understanding of the health of frog and toad populations in VNMP and throughout Mississippi.

For more information on Nature and Science at Vicksburg National Military Park, go to https://www.nps.gov/vick/naturescience/index.htm.
Last updated: April 14, 2015