Vicksburg National Military Park Begins Repair and Conservation Projects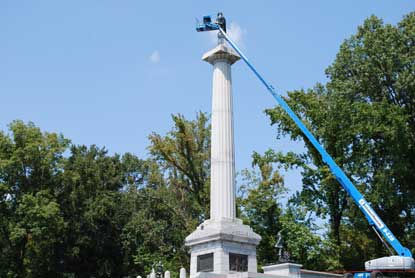 News Release Date:
October 1, 2012
Contact: Rick Martin, Chief of Operations, 601-619-2905
Three major projects have been initiated at Vicksburg National Military Park, involving erosion damage repair on Confederate Avenue, inspection of the USS Cairo Canopy, and conservation of several bronze sculptures in the park, including replacement of vandalized or missing pieces.
On September 25, 2012, work began to correct severe erosion damage on Confederate Avenue east of the Ft. Hill entrance.Lampkin Construction Company, Inc. of Vicksburg, MS, has subcontracted the work which entails filling, re-grading, and re-seeding the area, together with installation of a new drainage system. The park tour road has been converted to 2-way traffic from Ft. Hill to Tennessee Circle during the project period, allowing construction equipment and vehicles better accessibility to the work area without seriously impacting visitors.Visitors should remain alert for project equipment traveling between the USS Cairo parking area and the project site.The expected completion date is October 31, 2012.
Birdair, Inc. was awarded the contract to inspect the canopy protecting the USS Cairo, originally erected by that company in 2004.Considered the experts in the United States for custom tensile membrane structures, the company will closely inspect all aspects of the canopy including UV damage to the canopy fabric, seam stress, fabric support structure, guy wire tension and anchor stability.
The third project involves conservation and repair of the bronze and stone on the state memorials for Minnesota, Illinois, Wisconsin, Kansas, Massachusetts, Pennsylvania, Missouri, Arkansas, and Mississippi, and the sculptures of the African-American, U.S. Grant, and Stephen D. Lee monuments. After conducting an initial assessment, conservators from Aegis Restauro, LLC, of Belle Meade, NJ, have begun work on the specified structures, implementing treatments consisting of bronze and stone cleaning using non-ionic detergents and heat-applied waxing methods. The assessment also determined missing and/or vandalized pieces on the sculptures which will be re-cast and replaced on the structures.
For further information on Vicksburg National Military Park, please visit the park's website at www.nps.gov/vick/.
Last updated: April 14, 2015