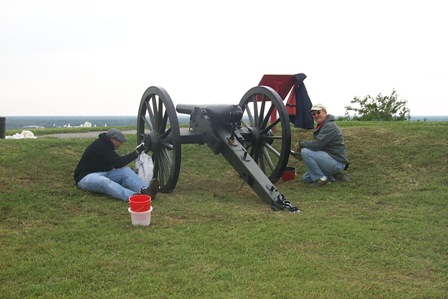 News Release Date:
March 19, 2008
Contact: Rick Martin, Chief of Operations, 601-619-2905
Contact: Virginia DuBowy, Natural Resources Program Manger, 601-636-0583
VOLUNTEERS NEEDED FOR PROJECTS AT
VICKSBURG NATIONAL MILITARY PARK
Vicksburg, Mississippi – Seven generations after the beginning of the Civil War, another wave of volunteers is about to descend on America's storied battlegrounds – only this array of dedicated men and women will be armed with paint brushes, trash bags and weed whackers.
On Saturday, April 5, 2008, history buffs and preservationists from around the country will team up with the Civil War Preservation Trust (CWPT) to help clean and restore America's priceless battlefields, cemeteries and shrines. The nationwide effort – dubbed Park Day – is underwritten with a grant from The History Channel. For the second time, this year's Park Day is presented in partnership with Take Pride in America, a division of the U.S. Department of the Interior.
Park Day, now in its tenth year, is an annual hands-on preservation event created by CWPT to assist local groups with the maintenance of Civil War sites. Participants gather at the sites to help with activities that range from trash removal to trail building. In exchange for their hard work, volunteers receive t-shirts and have an opportunity to hear a local historian discuss the significance of the site.
Vicksburg National Military Park will again be participating in Park Day activities for the third year in a row. With over 30 individuals participating in 2007, the park is looking for greater numbers of volunteers to paint cannon and cannon carriages, and pick up trash at this year's event. Sign-up will start at 8:00 AM at the Park Visitor Center located at 3201 Clay Street, Vicksburg. The first 100 volunteers will receive a free T-shirt, and the Interpretive Supervisor, Tim Kavanaugh, will present a program on the Vicksburg campaign at 12:00 PM. Lunch will be provided.
Volunteers should dress for outdoor work! Wear clothes you don't mind getting covered with paint, or getting dirty. Wear a long-sleeved shirt, long pants, work boots, and bring work gloves to protect your hands. Come prepared for the sun with a cap, sunscreen, and plenty of water to drink. For safety reasons, wearing shorts and/or sandals will prevent volunteers from participating in the scheduled activities.
For more information about Park Day at Vicksburg National Military Park, please contact Chief of Operations, Rick Martin (601-619-2905) or Natural Resources Program Manager, Virginia DuBowy (601-636-0583). For more information on Vicksburg National Military Park, go to www.nps.gov/vick
With 75,000 members, CWPT is the largest nonprofit battlefield preservation organization in the United States. Its goal is to preserve our nation's endangered Civil War sites and to promote appreciation of these hallowed grounds through education and heritage tourism. CWPT's website is located at www.civilwar.org. (For a complete list of participating Park Day sites, visit http://www.civilwar.org/parkday/)