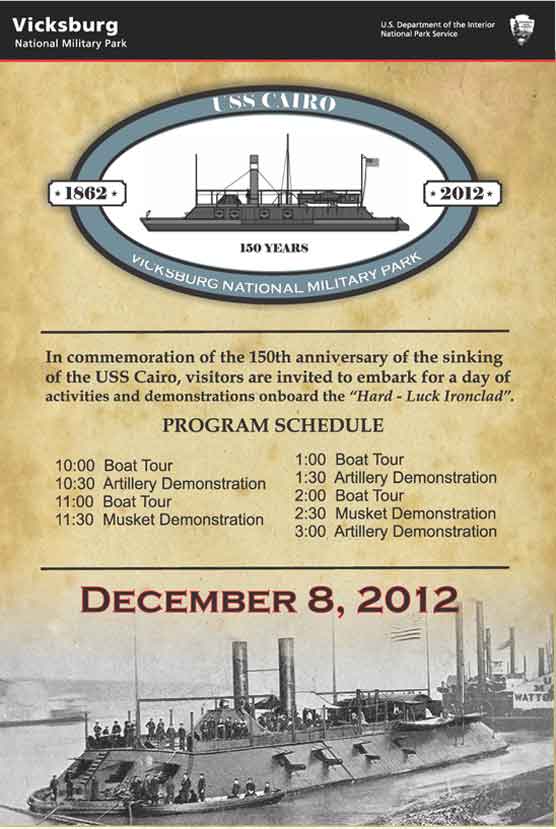 News Release Date:
December 3, 2012
Contact: Raymond Hamel, 601-636-2199
Vicksburg National Military Park invites visitors to step back in time for a day of living history programs and artillery demonstrations plus an evening candlelight tour of the ironclad gunboat, USS Cairo. These activities will be presented at the USS Cairo Exhibit and Museum in observance of the 150th anniversary of the vessel's sinking on December 12, 1862. The day's programs will conclude with four evening tours of the "Hard Luck" ironclad, when visitors will be introduced to historic personalities involved with the sinking and loss of the USS Cairo.
Tours begin at 5:30 p.m., 6:00 p.m., 6:30 p.m., and 7:00 p.m, and will last approximately 30 minutes. Participants are urged to wear comfortable walking shoes and dress appropriately for the weather while onboard the historic gunboat. No flash photography during the evening tours please.
The USS Cairo Museum can be reached by turning north from Clay Street onto Cherry Street which becomes Fort Hill Drive and terminates at the back gate of the military park.
The evening event is free, however, reservations are required, with each tour limited to 20 participants. Reservations are not required for the daytime activities (10:00 a.m. - 4:00 p.m.).
For reservations and directions, please call (601) 636-2199.