Course Changes of the Mississippi River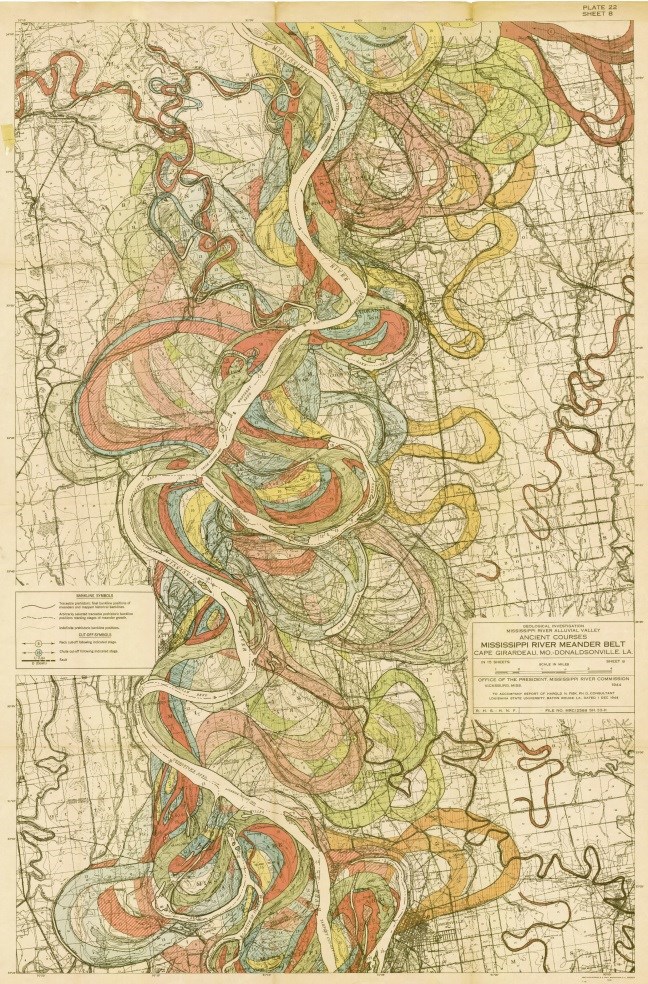 As you look to the distance at Fort Hill and at other high points in the park you will see a waterway in the distance. This waterway is not the Mississippi river but rather a passage connected to the Mississippi called the Yazoo River. While the Yazoo River flows past now, in 1863 this was not the case. At that point in time, the Mississippi flowed down this course. So how could it be one river today but an entirely different river 150 years ago?
The Mississippi River is a dynamic and changing river. Its course has changed many times and it will eventually change its path again. There are several factors that contribute to the change in courses of the Mississippi River. The main factor is energy. The Mississippi is a very curvy, knowns as meandering, river. As the water flows through each of these meanders, there is a difference in the rate of flow between the inside and the outside of the meander. Water on the outside of a meander has a further distance to travel, thus it flows faster than the water on the inside of a meander. This change in energy results in an area of erosion and an area of deposition in each meander. Along the outside of the meander, where the water is moving at a higher velocity, the banks of the riverbed are being cut away. Meanwhile, the slower rate of flow on the inside of the river bend allows for the sediments being carried in the water to settle out and be deposited. This allows for the growth of meanders and the change in shape for the river.
Eventually, as silt and sediment clog the rivers main channel, the river will rise, ultimately switching channels, finding a path that is steeper and more direct in its path to the Gulf of Mexico, beginning the cycle all over again. These meanders that became cut off from the rest of the river system create lakes known as abandoned meanders or oxbow lakes. Many of these abandoned meanders provide important marshland wildlife habitat.
The last major change to the river's course in the Vicksburg area occurred in 1876. On April 26 of that year, the Mississippi River suddenly changed courses, leaving Vicksburg high and dry. The river, by its own power succeeded in cutting across the Desoto Peninsula, something which the Union troops had failed to orchestrate 13 years prior.
In 1878 work was started on a project by the U.S. Army Corp of Engineers to construct the Yazoo Diversion Canal. The Yazoo River Diversion Project took 25 years to complete, lasting from 1878 until its completion in 1903. This once again gave river traffic access to the town of Vicksburg, which in turn helped bolster the town's economy which was drying up due to lack of a functional river port.

Learn more about flooding on the Mississippi River.
Last updated: May 30, 2018