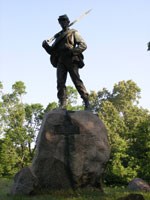 MONUMENTS ERECTED BY STATES

The enabling legislation that established Vicksburg National Military Park on February 21, 1899, directed the Secretary of War to mark the lines of battle. It also gave sole authority to the States which were involved in the campaign, siege, and defense of Vicksburg, the ability to erect monuments and markers in memory of their soldiers.
The legislation further specified that the Secretary must approve the location, design, and inscription of all memorials placed upon the battlefield.
Although the park features over 1,300 monuments, markers, plaques and tablets, not every state or military unit is represented.