Navy Circle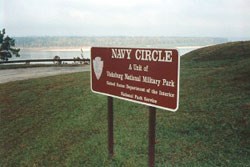 Navy Circle is located on Washington Street, off Exit 1A north of Interstate 20, and overlooks the Mississippi River. The circle is the site of Battery Benton, a Union siege position consisting of two 42-pounder rifled cannon.
This position was established by the Federals to guard against the possibility of a Confederate breakout down the Warren Road. The army lacked heavy guns to mount in this position, so the two 42-pounder guns were borrowed from the
USS Benton
, and were used from July 1 until the end of the siege. A detachment from Batter E, 1st Missouri Light Artillery, and volunteers from the 34th Iowa Infantry manned the battery, under the command of Acting Master J. Frank Reed of the U.S. Navy. The battery dueled with Confederate positions located at
South Fort
, and sustained casualties when a Confederate shell exploded within its fortifications.
Parking is available at the Mississippi Welcome Center and visitors may access the circle using a pedestrian bridge.

Last updated: November 30, 2023