South Fort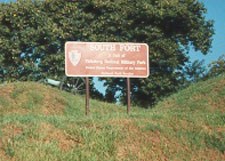 South Fort is located on Washington Street, approximately one-half mile north of Interstate 20. The batteries at South Fort anchored the southernmost position of the Confederate defensive line, and the heavy guns located at here had a commanding view of the Mississippi River and any approach made by the Federal navy. South Fort, like all of the Confederate river batteries, proved ineffective at preventing the passage of Union ships, and General Grant was able to run boats past the river defenses on both April 16 and April 22, 1863. Modern-day historians and military engineers suggest that the elevation of a majority of the river batteries was not ideal. Once Union troops were past Vicksburg, South Fort was instrumental in preventing General Grant from attacking Vicksburg from the river.

While South Fort was technically part of the river defenses, the Confederates made provisions to move the guns in the fort so they could defend the Warrenton Road against Union infantry advances. Warrenton Road was the major approach into Vicksburg from the south. When the siege of Vicksburg began, South Fort was instrumental in keeping the Union batteries at Navy Circle in check.

A 10-inch mortar located in this work wreaked havoc on the Union siege lines, until the gun was moved to a different position within the Southern lines.

A small parking area exists at the base of South Fort along Washington Street. Please use caution when walking up the steep slopes into the fort.


Last updated: October 25, 2018