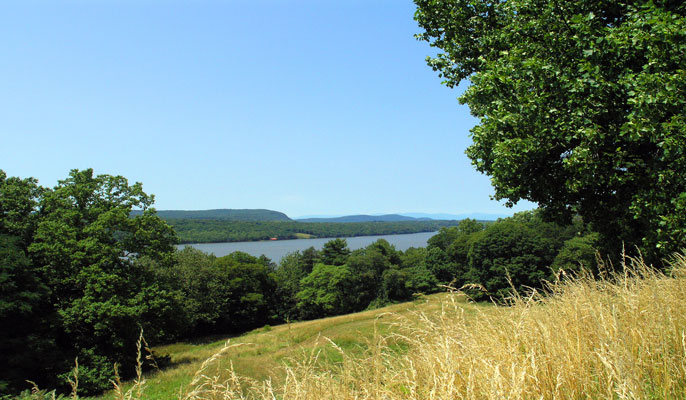 News Release Date:
March 31, 2015
Contact: Fran Macsali-Urbin, 845-229-6225
ROOSEVELT-VANDERBILT NATIONAL HISTORIC SITES
Join National Find Your Park Movement
National Park Week 2015 Encourages Everyone
To 'Find Your Park'
Hyde Park, NY -- The Roosevelt- Vanderbilt National Historic Sites -- which include the Home of Franklin D. Roosevelt, Home of Eleanor Roosevelt and the Vanderbilt Mansion National Historic Sites –are joining parks, programs and partners across the country to encourage everyone to find their park and share their stories online at FindYourPark.com. Launched yesterday by the National Park Service and the National Park Foundation, Find Your Park is a public awareness and education campaign celebrating the milestone centennial anniversary of the National Park Service in 2016 and setting the stage for its second century of service.
Find Your Park invites the public to see that a national park can be more than a place -- it can be a feeling, a state of mind, or a sense of American pride. Beyond vast landscapes, the campaign highlights historical, urban, and cultural parks, as well as the National Park Service programs that protect, preserve and share nature, culture, and history in communities nationwide.
"Find Your Park" will also be the theme for this year's National Park Week, April 18 –26. Sarah Olson, Superintendent of the Roosevelt-Vanderbilt National Historic Sites offers an invitation to celebrate our local National Parks and people's favorite places within them: "April 18th and 19th of National Park Week offer free admission to our sites and it's a great chance to Find Your Park. Is it the incredible overlook at the Vanderbilt Mansion, or the wooden bridge at Val-Kill, or the Roosevelt Farm Lane Hiking Trail? You might find your park spending a quiet moment in the Beatrix Farrand Garden or Eleanor Roosevelt's cutting garden at Val-Kill. Send your story to FindYourPark.com or post it on our Facebook pages."
Kicking off the National Park Week celebrations on April 18th at Historic Hyde Park will be the season launch of the Hyde Park Trails Walkabout; on April 25th the FDR Home will present a Junior Secret Service Program where kids can earn a Junior Ranger badge. You can get more information on these National Park Week programs at www.nps.gov/hofr. Visit NationalParkWeek.org to learn more about how you can join parks, programs, and partners in celebrating National Park Week across the country.
About the National Park Service
More than 20,000 National Park Service employees care for America's 407 national parks and work with communities across the nation to help preserve local history and create close-to-home recreational opportunities. Learn more at www.nps.gov.
About National Park Service Roosevelt-Vanderbilt National Historic Sites
Located in Hyde Park, NY in the scenic Hudson River Valley, the Roosevelt-Vanderbilt National Historic Sites include: the Home of Franklin D. Roosevelt, the Home of Eleanor Roosevelt (Val-Kill), FDR's Top Cottage, and the Vanderbilt Mansion. In addition to Ranger guided tours of the historic homes, the sites offer magnificent views of the Hudson River, 16 miles of hiking trails, historic and beautifully restored gardens, and a variety of intriguing events, which can be located at historichydepark.org and www.nps.gov/elro, www.nps.gov/hofr, www.nps.gov/vama.
Roosevelt-Vanderbilt NHS on Facebook