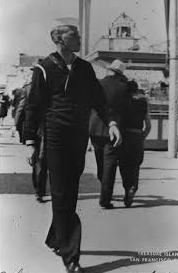 On December 7, 1941, Japanese bombs exploded into the hull of the USS Arizona, engulfing the ship in a giant fireball and leaving thousands dead. Amidst the destruction, one thing remained intact - the bond of brotherhood.
Family ties ran deep on the Arizona. Serving aboard were a father and son and 37 sets of brothers. Naturally, they wanted to be together. Their families back home felt the same, but worried about losing all of their boys when disaster struck. These fears became reality as the sinking of the Arizona killed 23 sets of brothers and a father and son.
Similar tragedies early in WWII prompted the Navy to release a bulletin discouraging family members from serving together on the same ship. After this bulletin, no policies, regulations, or laws were made to enforce it. Even the deaths of five Sullivan brothers aboard the USS Juneau in November 1942 could not force a stricter policy, nor did it stop determined brothers from enlisting and serving together.
Today is no different as warnings are given to families requesting to be stationed together. Yet, if their ship is not in a hostile area, they can still serve together. Their desire to be with family often overpowers the risks. Simply put, brothers want to be brothers.