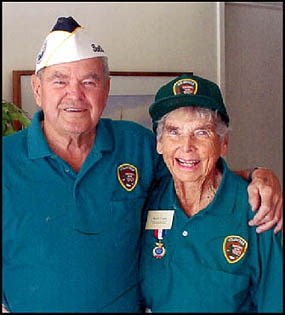 United States Arm Air Corps B-17 Pilot (December 7, 1941)
Retired United States Air Force Officer
Bill Cope, a Pearl Harbor Survivor, was a newly married B-17 Bomber pilot on December 7, 1941. He joined the United States Army Air Corps on January 12, 1939. After graduating from flying school in June of 1941, he was assigned to Hickam Field, Hawai'i.
Bill met his late wife, Ruth while she was vacationing with her college sorority sisters on O'ahu. It was love at first sight and they were married at the Hickam Officers' Club just ten days before the Japanese attacked the island.
The couple had just returned from their honeymoon when Bill was notified that he was assigned to be the Officer of the Guard on December 6, 1941. His duty was to line up all of the B-17's, supposedly to avoid sabotage, but instead this enabled the Japanese to get them in one quick attack.
On the morning of December 7, 1941, the young couple were settling in to their new quarters and adjusting to the joys of married life. The joy was short lived. They soon noticed smoke and heard explosions coming from the neighboring Navy Base at Pearl Harbor. Shortly thereafter, Japanese Zeros flew over their home toward the flight line at Hickam Field. The Japanese attackers destroyed all of the B-17's on the flight line during the attack. With no B-17's, Bill was later transferred to Bellows Field on the eastside of O'ahu and flew B-17's until replacement B-17' s arrived.
In June of 1942, Bill participated in the Battle of Midway and in August of that year, he left for Guadalcanal as a member of the 11th Bombardment Group. Bill stayed in the South Pacific until 1943 and later received the Distinguished Flying Cross for 45 Combat Missions.
While Bill was flying missions, Ruth stayed on O'ahu and joined the Women's Air Raid Defense (WARDS). This organization was formed by the Army to relieve duty men from radar work on Oahu. She was stationed at Fort Shafter. Bill and Ruth were reunited on the Mainland in 1943.