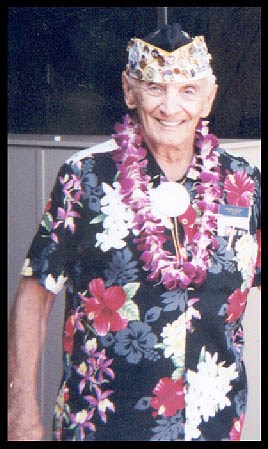 SGT, United States Army (1940 - 1947)
Al Bodenlos was born in Cleveland, Ohio on August 13, 1920. He enlisted in the United States Army on July 9, 1940. He was eventually assigned to the 13th Combat Engineers, then to the 804th Engineer Aviation Battalion at Schofield Barracks, Hawai'i.
On December 6, 1941, Al was sent to Honolulu to buy instruments for the 804th New Drum and Bugle Corps. Al was the Bugle Master for the 15 buglers in the battalion. Also, part of his assignment was to attend a special concert that night at Army-Navy YMCA. All the U.S. battleships stationed in the harbor had bands, and some were involved in the competition. Al recalled that the place was packed and full of energy, but he planned for a leisurely morning the next day.
Early in the morning on December 7th at the Army-Navy YMCA, loudspeakers ordered all military personnel to report to their organizations immediately. Al dutifully caught the Schofield Shuttle. When the bus neared the shores of Pearl Harbor, all hell was breaking loose. M.P.'s stopped and stormed the shuttle and ordered everyone to get off and to take cover immediately. Al then learned that the harbor was under attack and the Japanese pilots were shooting any thing moving. Al recalls that the planes were flying so low that you could see the faces of the pilots. They shot at but missed the shuttle by inches, bullets whizzed all around and everyone dove for safety into a nearby ditch. Al was scared and witnessed the horror of the tragedy developing in the harbor. He vividly remembers the USS Arizona blowing up and the USS Oklahoma rolling over as he helplessly watched other ships sink to the harbor floor.