Hike, Bike, and Run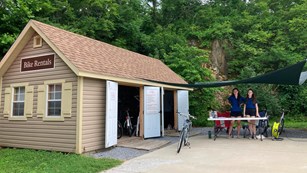 Rent a Bicycle
The Encampment Store offers bike rentals seasonally. Call 610-551-7870 to confirm rentals are being offered before heading to the park.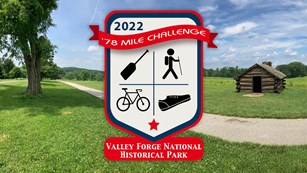 Walk, Run, Bike, or Paddle
Walk, run, bike, or paddle 78 miles at Valley Forge between April and October 2022 to take the '78 Mile Challenge and earn a fun prize!
Valley Forge National Historical Park has over 35 miles of designated trails!
The paved Joseph Plumb Martin loop makes a circuit around the central Grand Parade and connects many of the key historic and interpretive sites in the park. This trail especially popular for walkers, joggers, and cyclists.
There are also unpaved (dirt and gravel) trails through the forests on Mount Joy and Mount Misery, next to Valley Creek and the Schuykill River, and through the beautiful meadows of the Grand Parade.
Hiking is permitted in most open areas of the park. Please keep your pets on a leash at all times and throw waste in the provided trash and recycling receptacles.
Download
the combined hiking, biking and horseback riding trail map, courtesy of the Valley Forge Park Alliance.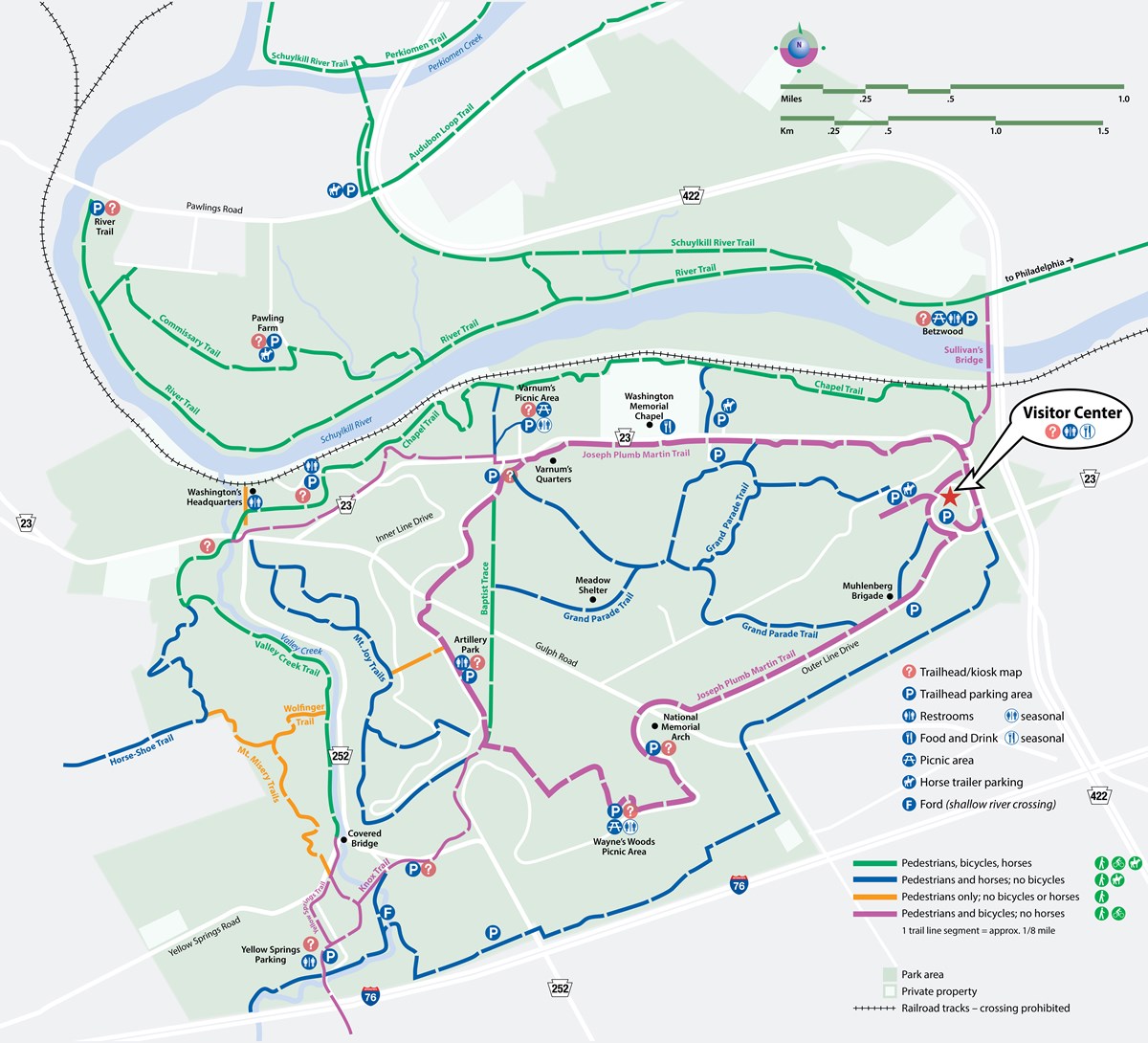 Trail Descriptions
Trails authorized for pedestrians only are marked as yellow on the map above.
18.2 miles of authorized bicycle trails within the park are marked as green and purple on the trail map above.
Authorized horse trails are marked as green and blue.
Joseph Plumb Martin Trail
8.7 miles total (5-mile inner loop)
Hilly with limited shade. 5-mile inner loop follows much of the Encampment Tour route and connects many of the park's historic sites. Named for a young Continental Soldier who camped at Valley Forge in 1777-78. Paved multi-use trail.
Chapel Trail
2.5 miles (one-way)
Shady trail with lengthy level stretches. Some steep sections with great views of the Schuylkill River. Unpaved.
Trails on Mount Joy
Hilly wooded trails with great views. Unpaved.
Trails on Mount Misery
Mount Misery Trail
Steep wooded trails with great views and experiences. Unpaved.
Valley Creek Trail
Mostly level trail along Valley Creek. Unpaved.
Wolfinger Trail
Very steep and wooded trail. Unpaved.
Horse-Shoe Trail
Steep woodland trail. Begins in park and connects with Appalachian Trail. Unpaved.
Trails on the North Side of the Schuylkill River
River Trail
3 miles (one-way)
Shady level trail meandering along the Schuylkill River. Unpaved.
Commissary Trail
1 mile (one way)
Level trail that circles part of the historic Pawling Farm. Unpaved.
Wide multi-use trail that extends southeast to Philadelphia and northwest to Phoenixville. Connects with the Perkiomen Trail and Audubon Loop Trail. Can be accessed from points beyond the park. Paved.
Trail Regulations
To ensure your safety and to protect sensitive historic and natural resources in the park, you must abide by these common sense regulations:
Some former trails have been closed to public use. These trails are closed because they are unsafe and cannot be made safe, or because using the trails destroys natural or historic resources. If a trail is not shown on the map, it is closed and public use is prohibited. Please stay off of these trails.

Trails are designated for certain uses, as shown on the map, in order to prevent resource damage. Using trails for undesignated uses damages resources and is prohibited. Off-trail use by bicycles causes profound damage to cultural and natural resources and is prohibited. Parking is permitted only in areas shown on the map.

Parking on the grass is prohibited.

The use of skates, in-line skates, skateboards, and roller skis is prohibited.
Last updated: October 4, 2022