Trails and Horse Paths

Download
the combined hiking, biking and horseback riding trail map, courtesy of the Valley Forge Park Alliance (2018).

Hiking
The park contains 35 miles of designated, marked, hiking trails. The 6.6 mile Joseph Plumb Martin Trail connects the key historic and interpretive sites. The Horseshoe Trail begins near Washington's Headquarters and runs to the Appalachian Trail. Other hiking trails include such footpaths as the relatively flat River and Valley Creek trails, and the hilly trails on Mount Joy and Mount Misery. In addition, hiking is permitted in most open areas of the park. While hiking in the park please keep your pets on a leash at all times.

Biking
There are 19 miles of authorized biking trails in the park. The paved, 6.6 mile Joseph Plumb Martin Trail on the south side of the park connects the key historic and interpretive sites. On the north side, two miles of the paved, regional Schuylkill River Trail run through the park, with connections to sites in Montgomery County and Philadelphia. Biking is allowed on all open park roads as well as some flat, unpaved trails.


Horseback Riding
Seventeen miles of designated horse trails are available to riders. Caution should be used when crossing open areas because of holes and other hazards.
To prevent damage to fragile historic resources and unsafe encounters in busy visitor areas, horses are prohibited in picnic areas, the vicinity of historic buildings, and tour stops. Horse excrement needs to be removed (by owner or person having custody of animal) from all paved walkways, roads and parking areas.

Horse trailers may only be parked in one of the following areas:
The horse trailer area of the main Visitor Center parking lot.

The Pawlings Road parking lot

and a

long the south side of the Walnut Hill access road.

Washington Memorial Chapel Lot (located east of Chapel).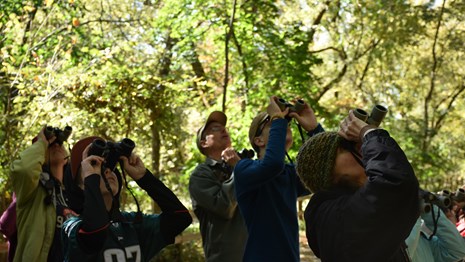 Bird Walks
Discover an amazing array of birds who call the trees and meadows of Valley Forge home.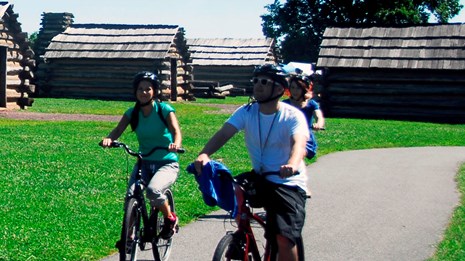 Bicycle Rentals
Explore the park on two wheels!
Last updated: January 3, 2020