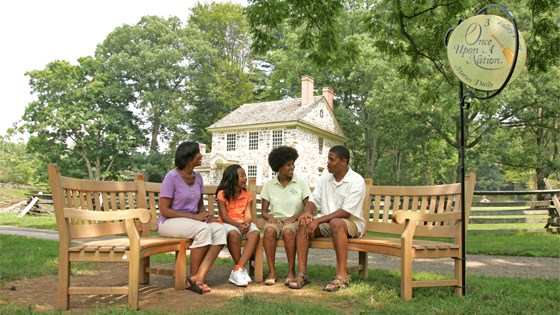 Come and listen as specially trained storytellers share riveting stories of the Valley Forge encampment, and how it became a turning point in the Revolutionary War. All storytelling programs are free.
Benches are located at the Visitor Center, the Washington's Headquarters Train Station Platform, and on the Joseph Plumb Martin Trail near Muhlenberg Brigade / Redoubt #2.
In 2018, 8-12 year olds have the opportunity to create and tell their own historical story as part of the Future Storyteller Contest. Learn more about how to participate at
historicphiladelphia.org/future
.

2018 Schedule
May 26 – 28, Memorial Day Weekend, daily: 11 am - 4 pm
June 2 – June 10, Saturdays and Sundays: 11 am - 4 pm
June 11 – August 12, daily: 11 am - 4 pm
August 18 – 26, Saturdays and Sundays: 11 am - 4 pm
September 1 – 3, Labor Day Weekend: daily, 11 am - 4 pm
September 8 – October 21, Saturdays and Sundays: 11 am - 4 pm