Artillery Park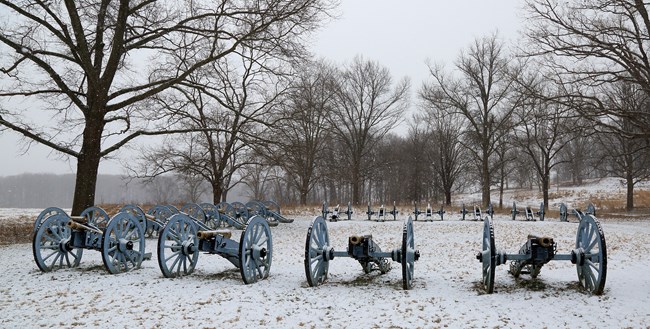 "…After Orders. All the Artillery of the army is to be collected together at the park—the detachments are to march thither, to morrow morning at nine o'clock…" General Orders, 21 December 1777.
During the Valley Forge Encampment most of the Continental Army's cannons under Washington were stored here at Artillery Park. Artillery Park is centrally located between the first and second lines of defense. From this central location, the cannons could be rushed to the dirt mound defenses located throughout the encampment to help stop an attack by the British. Even with this reliable and flexible defense, the army still had to coax starving horses to pull the cannons through deep muddy camp roads, a near impossible task.

Brigadier General Henry Knox commanded and trained around 630 officers and soldiers from the 1st, 2nd, 3rd, and 4th Continental regiments of Artillery from this location. Each gun would have 14 to 15 men operating it. The term "pounder" is used to describe the weight of the cannonball that would be fired out of the cannon. The most common cannon was the six-pounder, but there were also several three, four, and eight pounder cannons along with mortars and howitzers at Valley Forge. Cannons acquired by the Continental Army came from a variety of sources; some were cast in America, many were supplied from France, while others were captured from the British. At the end of the encampment in June of 1778, General Knox had under his command 40 to 50 field pieces.

Today, visitors can see over a dozen replica cannons featured in three rows, overlooking the center of Valley Forge National Historical Park with views of the National Memorial Arch.

Sources:
"General Orders, 21 December 1777," Founders Online, National Archives, https://founders.archives.gov/documents/Washington/03-12-02-0599. [Original source: The Papers of George Washington, Revolutionary War Series, vol. 12, 26 October 1777 – 25 December 1777, ed. Frank E. Grizzard, Jr. and David R. Hoth. Charlottesville: University Press of Virginia, 2002, pp. 657–658.]

Peterson, Harold. Round Shot and Rammers. Stackpole Books, 1969. Print.

Stephenson, Michael. Patriot Battles: How the War of Independence Was Fought. New York: HarperCollins, 2007. Print.

Thibaut, Jacqueline. Valley Forge Historical Research Report Volume III: Brigade Encampments, Artillery Park, United States Department of Interior National Park Service, 1982. Print.

Valley Forge Park Alliance, "Brigade of Artillery" http://valleyforgemusterroll.org/brigades/artillery.asp, 2020.
Last updated: August 17, 2020