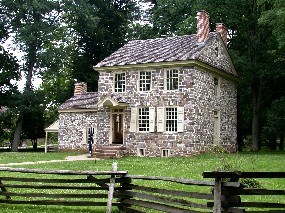 Learn about Washington's Headquarters and the Excavation Project
June 2-6, 2009
A Lesson in Context
The start of every archaeological excavation begins with laying in a grid. We are digging in 5ftx5ft excavation units, and we have oriented them parallel to the foundations of the Potts house. Our grid is 10 feet by 30 feet, giving us a two-by-six layout of squares aligned to the building, and they are marked with neon green mason's line wrapped around galvanized spikes. We have assigned each unit a letter designation, starting with the northwest unit "A". In addition to units being named by letters, we are designating each layer within the units by number. Therefore, the topsoil of every unit is "Level 1", and subsequent layers are numbered as we come upon them. This is not to say that every "Level 2" will be the same soil, but every layer below topsoil in each unit will be called "Level 2" and so on.
Once our grid is on the ground, we will establish a "datum", a point from which we will record all elevations of the soil levels across the site. Having a datum is very important to a scientific archaeological excavation; it is the depth measurement, as well as the letter of the unit that are used to give artifacts and features "context". Archaeologists can understand a lot about a site and a time period not only through the artifacts themselves, but from where those artifacts are found in the ground; the artifact itself, its historical function, and its location upon excavation all play a role in interpreting what it may have meant to someone, or to whom it may have belonged. Recording that something is found in unit A, level 3 is good, but recording exactly how many feet below our assigned datum "Level 3" occurs, is even better; the more accurate our measurements, the more accurate our interpretations. As you can see, it is more complicated than you might think to set up a proper archaeological investigation!
The end of this week will include breaking ground, and the stripping of sod off of units C and D. The park archaeologists who observed and recorded the site in 1986 covered what they saw in plastic before they backfilled, so we know how deep to go to reach the bottom of our first layer. We expect to see many modern artifacts, but also some earlier objects, because the soil that was used to fill in the space was never sifted through screens to find artifacts. Already, the site is confirming our suspicions, but as we dive below the plastic, we hope to find some intact deposits from historical periods, particularly from the Continental Army's 1777-1778 encampment.