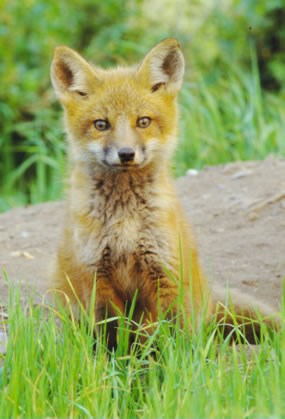 Many species of mammals inhabit Valley Forge National Historical Park. Spring through summer is the best time to observe these mammals, as a few species spend most or all of the winter in dens. In the later case, some of the hibernating species include the common skunk and the groundhog, also known as the woodchuck or whistle-pig.
While hiking the trails through the forests of Mt. Joy and Mt. Misery, visitors often encounter white-tailed deer, gray squirrels, and eastern chipmunks. The red fox is the largest known resident predator in the park. In the spring the young can often be seen at their den's "door." Foxes are observed frequently "mousing" in the tall grass meadows, the later of which harbor populations of voles and field mice.
Another mainstay of the meadows is the groundhog, seen grazing, standing alert, and scurrying into burrows throughout the park. Eastern cottontails, mice, voles, shrews and moles also abound in a wide variety of habitats. Recently, coyote sightings have increased, and while their residency status in the park remains undocumented, their addition to the wildlife dynamic and food chain hierarchy will be exciting to observe. Bats can be observed at night hunting insects over the tall grass meadows.

In late May and early June, the White Tail deer give birth to gentle fawns.