Fish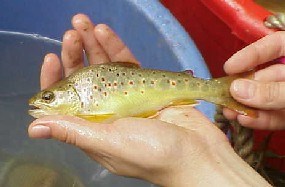 Valley Creek, along which a colonial iron forge was once located that gave the area and the park its name, is a limestone stream that harbors a variety of small fish species as well as a population of naturally breeding brown trout. Suckers, dace, and chubs are also found in the creek.

Valley Creek has been affected by industrial pollution. Anglers need to be aware that Valley Creek is a CATCH-AND-RELEASE ONLY stream with some tackle restrictions. A Pennsylvania fishing license is required of all anglers 16 years of age and older.
Read about the park's fishing facts for further information.
The Schuylkill River, which bisects the park, is home to smallmouth bass, walleye, some muskellunge, a rare brown trout in spring, carp, several varieties of catfish, and sunfish.
Visitors may observe the fact that much of the park's rolling terrain is free of small streams. This is because a wide area of the park lies over limestone formations into which water infiltrates readily, so the "streams" are actually underground waterways. This is further discussed in the geology section of this website.
One story often told is that of George Washington's army being saved from starvation by the American shad's migratory run on the Schuylkill River in the spring of 1778. Historians have determined that this is probably a myth, although shad did have migratory breeding runs in the river prior to the age of dam building. Efforts are underway to restore the shad migrations on the Schuylkill River.


Last updated: February 26, 2015