Steuben's Regulations Book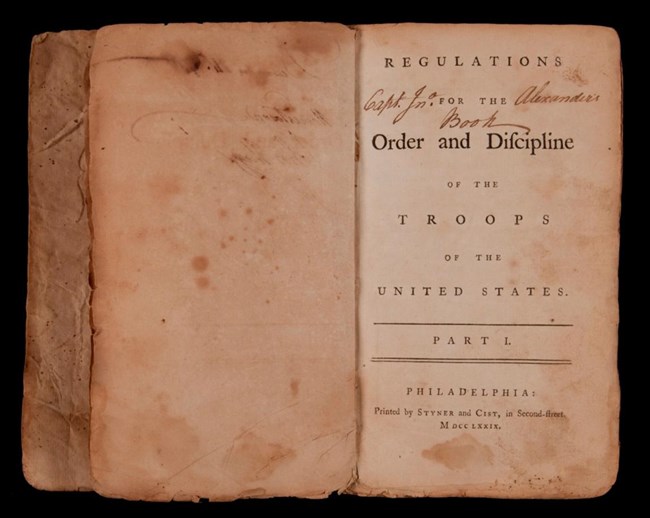 History
Painfully aware of his army's shortcomings, General Washington put forth a request for an inspector-general to transform the army into a professional fighting force. Though the request had been rendered almost unattainable by political and military intrigues, on February 23, 1778, it was answered with the arrival of the Prussian officer Baron de Steuben. Steuben's hands-on training program helped the army become a more proficient fighting force and at the same time gave the troops a new sense of purpose.

Once the troops were thoroughly trained and their skills demonstrated, Washington requested that Steuben composed a manual of military regulations. Steuben's Regulations for the Order and Discipline of the Troops of the United States was first published in March 1779 by Philadelphia printers Styner and Cist. This initial printing of 1500 copies contained 150 pages and 8 plates bound with blue covers. Quickly becoming known as the Blue Book, it went on to have some seventy editions and remained an indispensable manual for American soldiers until the War of 1812.

Valley Forge National Historical Park is fortunate to have this rare first edition, once owned by Captain John Alexander of the 7th Pennsylvania Regiment, as part of the John F. Reed Collection.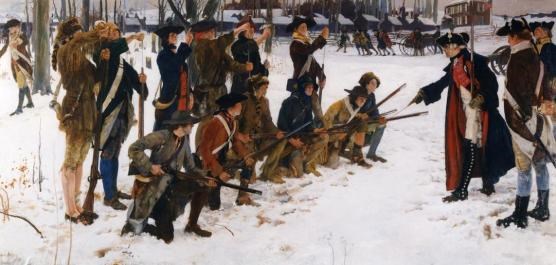 Condition
When the park received the first edition copy of the Regulations for the Order and Discipline of the Troops of the United States it was in very poor condition. It was worn and soiled from use in the field. Shrinkage and loss of the leather binding had exposed the spine and the paper boards. The back cover was completely detached. Some of the laid paper was flexible, but some was brittle. There were some tears, water staining, and age discoloration on the pages. Old repairs to the plates were very visible and in need of replacement. The extent of the treatment was restrained so as to retain the physical field worn history of the book while removing any threat to its future preservation.

Last updated: February 26, 2015