General Nathanael Greene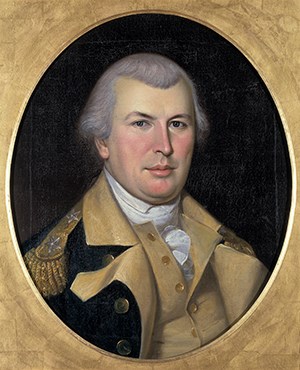 General Nathanael Greene was one of the most important heroes of the American Revolution. Early on in the war, the native Rhode Islander showed a strong talent for assembling supplies and working well with his military and civilian colleagues. Greene became a general in the summer of 1775, at 34 years of age. At the time he was the youngest officer in the army to hold that rank. Increasingly, Washington came to depend on the able young officer.
A determined soldier, with a forceful personality, Greene was most comfortable serving in the field among his men. During the winter encampment at Valley Forge, Washington asked Greene to bring order out of the chaos in the army's quartermaster department. Greene reluctantly obeyed Washington, but commented that "no one remembers the Quartermaster." From 1778 to 1780, he greatly improved the operation of the Quartermaster department. Unfortunately, Greene made enemies in the army support services and in Congress.
The year 1780 was one of the darkest of the war for the Patriot cause. As a result of two crushing American military defeats in the south, British forces gained control of Georgia and South Carolina and were well on their way to conquer North Carolina. In this grave crisis Washington turned to his most trusted general. The Rhode Islander accepted this most unenviable appointment, and now, for the first time in his career, held a fully independent command. Within only 18 months, in one of the most famous military campaigns in the history of the United States Army, Greene regained control of all three states. These actions assured that Greene would be remembered as one of the finest strategists of the American Revolution.
Greene retired to a plantation home in Georgia, and died at age 43 on June 19, 1786.
Last updated: August 6, 2019