Marquis de Lafayette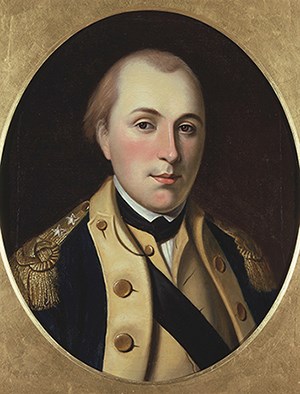 At the young age of nineteen, Marie-Joseph Paul Yves Roch Gilbert du Motier de Lafayette left his home country of France to aid the Continental Army in its efforts to establish America as an independent nation.
Arriving in America June 13, 1777, Lafayette swore on the shore to commit himself to the cause. This day also marked Lafayette's undying allegiance to General George Washington.
Months later, the Marquis found himself at Valley Forge as an aide-de-camp to Washington. He also found himself a second-time father to a young daughter. News of her birth reached Lafayette the same day the Continental Army encamped at Valley Forge, December 19, 1777.
As commander of a new division at Valley Forge, with enlistments decreasing and desertions increasing, Lafayette took it upon himself to make sure his troops were living to the best possible standards. He donated muskets and uniforms to men in need. Known as the soldiers' friend, Lafayette shared the hardships with his men, even when his rank entitled him to special privileges.
Although it was apparent that battle would be postponed until spring, his homesickness worsened. But even though his wife and father-in-law begged him to return home to France, the loyal Lafayette refused to leave.
It was that same loyalty that possessed Lafayette to ride to Headquarters in an effort to warn his idol, George Washington, of a plan by Gates, Conway, Charles Lee, and members of Congress to overthrow him.
Lafayette was greeted by Washington's personal "body servant" William Lee. Alexander Hamilton then came to the door and informed Lafayette that the General was too busy to see him. Hamilton added that the General might have time to see him if he came back later. Lafayette returned, but only to find that the General was too busy.
In late January, 1778, Lafayette was offered a promotion by Congress. He was invited to Headquarters at Valley Forge to receive the message. George Washington handed Lafayette the note and silently left the room. Washington did not want to sway the Marquis's decision, one that would require Lafayette to leave Washington's command. Congress has asked Lafayette to lead the Northern Army on an expedition to win Canada back from the British and return it to the French.
Lafayette suspected the promotion could be part of a ploy to separate him from Washington. Lafayette wrote to Henry Laurens, president of Congress, and explained his feelings.
The events that followed caused Lafayette's promotion to be canceled as the situation in Canada became one that did not require his being there, as his talents were needed at Valley Forge.
Lafayette was a loyal supporter of the American cause as well as an avid supporter of George Washington. A young man, with obligations at home, Lafayette still remained faithful to the promise he made when first set foot on American soil in June 1777.
He returned to America in 1824 after President James Monroe requested his visit. It is reported to be one of the happiest years of his life, as he was greeted with enthusiasm by the American people.
Last updated: August 6, 2019