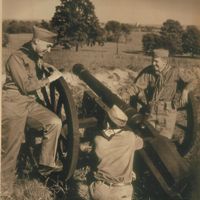 They Chose Valley Forge
In the late 1940s, the Cold War commenced-an unsettling period of repeated crises and tensions between United States and the Soviet Union. For reassurance, citizens looked back to the founding ideals of democracy and a renewed interest in the American Revolution developed. When the Boy Scouts of America decided to hold a jamboree at an icon of the American Revolution, they chose Valley Forge.
This is a two page web exhibit.