Trails
Tule Springs Fossil Beds is a new National Monument, so there are no permanent trails established yet. While Tule Springs Fossil Beds is going through the
park planning program
, we have established two temporary trails. These temporary trails are marked paths that help gather visitor use data by counting the number of people using these trails, and seeing how frequently different areas of the park are visited. These data will allow for better long-term trail planning within the monument.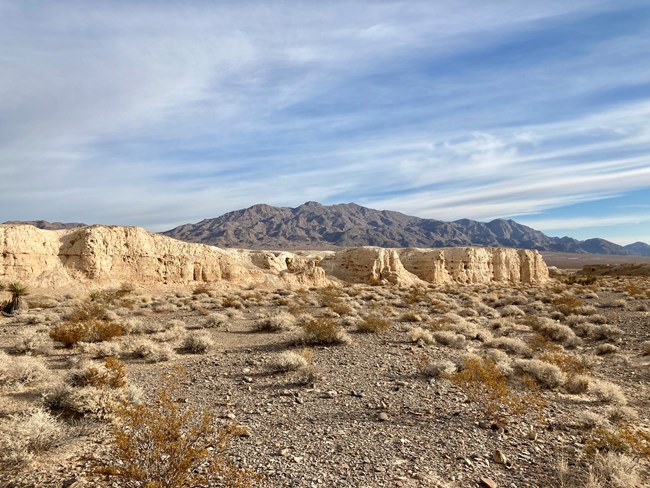 Durango Loop Temporary Trail
The Durango Loop Temporary Trail offers scenic views of the Las Vegas and Sheep Ranges, as well as the Spring Mountains. On this trail, you will pass through Ice Age badlands as you experience the modern Mojave Desert landscape. This temporary trail features a
self-guided tour
.
Trail Overview
Difficulty: Easy-Moderate
Distance: Short Loop: 1.7 mi (2.74 km) | Long Loop: 2.25 mi (3.62 km)
Time: Short Loop: 30-40 minutes | Long Loop: 60-90 minutes
Trailhead: Durango/Moccasin Kiosk
Elevation change: 108 ft (33 m)
Trail Surface: Loose gravel, compacted desert soil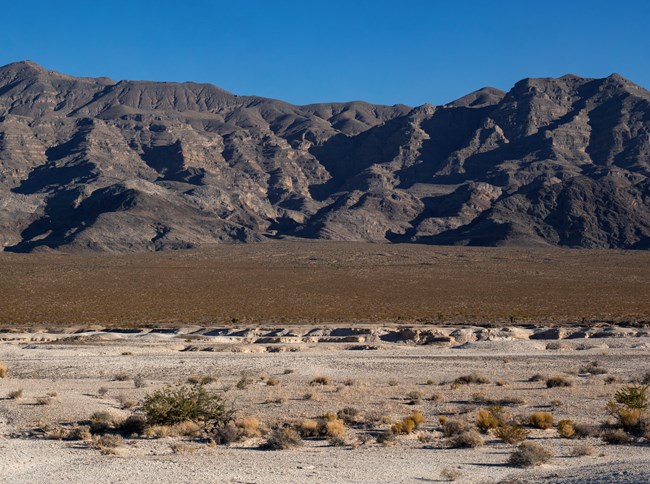 Aliante Loop Temporary Trail
While the Aliante Loop temporary trail offers year-round scenic views of Mojave Desert scrub habitat and the Las Vegas Range, wildflower blooms in spring and summer are a sight to see. This temporary trail features a
self-guided tour
.
Trail Overview
Difficulty:
Easy
Distance:
3.25 mi (5.23 km)
Time:
60-90 minutes
Trailhead:
Aliante Parkway Kiosk
Elevation change:
75 ft (23 m)
Trail Surface
: Compacted desert soil
Last updated: March 30, 2023