Special Events
Tumacácori hosts a number of special events during the year -- some with long-standing traditions and some that are brand new. Even returning visitors will find something unique to experience. Be sure to scroll all the way down the page to see the full array of special events for the coming year. Or, browse the Calendar for events coming up.
Got a question about an event you see here? Contact us!
You may also want to consult the Tubac Calendar for a listing of events nearby.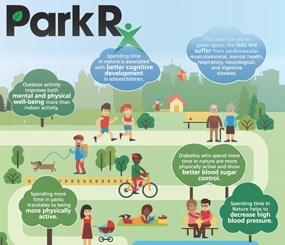 Park Rx Day: Run, Hike, Walk, Stretch, Play!
Sunday, April 28, 2019
8:00 a.m. - 12:00 p.m.
Get outside to hike, explore, and be with friends. Hike the length of the Anza Trail between Tumacácori and Tubac, then rest, rehydrate, and catch the free shuttle back to your starting point. Join the health fair in Tumacácori's picnic area from 8:00 a.m. to 11:00 a.m. where you can participate in demonstrations, classes, and info sessions. Refreshments served and special appearance by Pancho the Vermilion Flycatcher.

The Anza Fun Run will be departing Tubac Presidio at 7:00 a.m. Runners/walkers/hikers can complete the Anza Fun Run Registration here to join and get a free t-shirt.

If you are a community organization, company, or government entity and you'd like to Be an Exhibitor at the Health and Wellness Fair, please fill out the online form by April 20.
Día de San Juan: Splash Fest
Sunday, June 24, 2018
1:00 p.m. - 3:00 p.m.
Día de San Juan, the day set aside to celebrate the birth of Saint John the Baptist, is also the day on which people all over Mexico welcome the summer season and celebrate the arrival of summer "monsoon" rains. This holiday is a great time to enjoy a fun-filled day in the sun with lots of games and opportunities to cool off by getting wet. Visitors to Tumacácori will be able to celebrate the day with water activities and delicious raspados. Expect games like water cup races, a sponge toss, fill the bottle, and more. Water squirters and games will be provided - come prepared to get wet!
.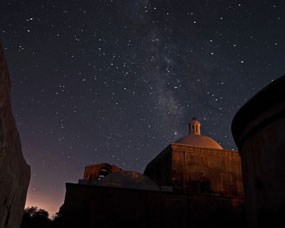 International Dark Sky Park Celebration
Sunday, August 12, 2018
7:30 p.m. - 9:30 p.m.

Enjoy our newly designated dark skies during the Perseid Meteor shower. Bring a flashlight (with red filter, if you have it) and a chair or mat to sit on. Telescopes and treats will be available.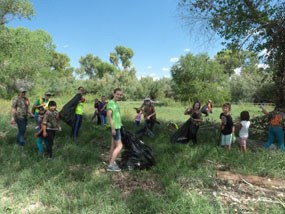 National Public Lands Day
Saturday, September 29, 2018
8:30 a.m. - 12:00 p.m.
Free for participating volunteers

Celebrate our shared public lands by participating in a clean-up along the 1.5 mile section of the Anza Trail within Tumacácori National Historical Park (3 mile round trip). Volunteers will meet in the park picnic area for a brief orientation. Supplies provided include;trash bags, safety vests, and work gloves. Event volunteers can earn service hours, a reusable Tumacácori water bottle, and a coupon good for free entrance to any federal fee area.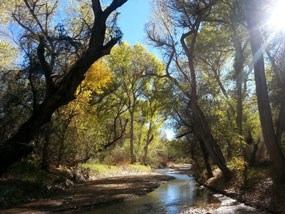 Park-to-Park Hike: #Trails50
Sunday, October 7, 2018
8:00 a.m. to 12:00 p.m.
The National Historic Trails Act turns fifty years old this month, so hop on the first leg of the nationally recognized Juan Bautista de Anza National Historic Trail between Tumacácori and Tubac Presidio State Historic Park. Park at either end, hike 4 miles along the shady Santa Cruz River, then catch the free shuttle back to your starting point.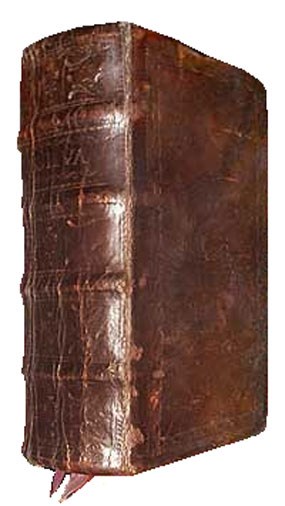 Meet the Authors
Friday, October 12, 2018
4:00 p.m. to 6:00 p.m.
Dozens of books have been written about Tumacácori and its themes over the years. In celebration of some newly republished works as well as old favorites, rub shoulders with some of our foremost local authors and scholars. Present this year:
Peg Bowden, Land of Hard Edges
Richard Collins, Riding Behind the Padre
Dana Wildsmith, Jumping
Refreshments will be available. Information tables representing the Border Community Alliance, Kino Border Initiative, and Southwest Mission Research Center will share information and opportunities for visitors to learn more about the rich cultural heritage of the borderlands.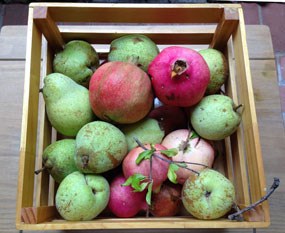 Cosecha - Bake-Off and Harvest Party
Sunday, October 28, 2018
11:00 a.m. - 1:00 p.m.
It's harvest season in the heritage orchard. Bring your taste buds and enjoy the "fruits" of our labor! Community members are invited to submit their finest recipe in one of three categories inspired by the heritage fruit trees of the mission orchard – pomegranate, stonefruit, and apple/pear/quince. Participants will submit their recipe online in advance and then bring the item to the park on event day. These pies, cakes, pastries, cookies, breads, and more will be sampled and scored by visitors on the merits of taste and originality. The highest scoring entries in each category will win a gift basket filled with treasures for the kitchen. In addition to tasting, visitors can walk the grounds, visit the garden and orchard, participate in informal presentations about food and gardening, and go home with their own delicious homemade craft. Visit the Mission Bake-Off Online Submission for details.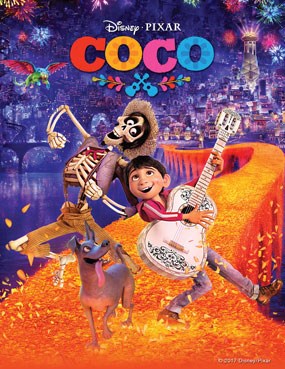 Día de los Muertos
Friday, November 2, 2018
4:00 p.m. to 8:30 p.m.
FREE
Visitors can begin setting up their own outdoor movie seating at 4:00 p.m. in front of the mission church. Ushers will be available to help make sure everyone has a good view of the screen. In addition to blankets, mats, and camp chairs, visitors may wish to bring a picnic dinner. (Pick up after yourselves, and no glass, please.)
Before the movie begins, free tickets will be available for popcorn, provided by the Santa Cruz County Sheriff's office. Get your face painted, make a colorful mask, or create your own nicho to remember a loved one. Candles will light the church and cemetery for those wishing to explore the mission grounds. The movie begins on the big screen at 6:00 p.m.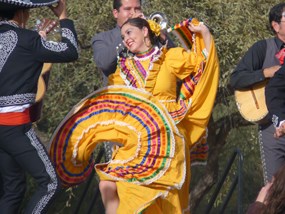 La Fiesta de Tumacácori
Saturday, December 1, 2018: 10:00 a.m. - 5:00 p.m.
Sunday, December 2, 2018: 10:00 a.m. - 4:00 p.m.
Free!
Held every year during the first full weekend in December
In recognition and celebration of the many cultures that were historically and are presently associated with the Santa Cruz Valley, the Tumacácori Fiesta presents the traditional creations of these cultures. The fiesta features around fifty food and craft booths, continuous live entertainment on stage, and children's activities each day. On Sunday, the day begins at 10:00 a.m. in front of the Visitor Center with a procession through the Fiesta grounds to the historic church, followed by a multi-cultural Mass in front of the church. The mission grounds and park are open throughout the weekend and admission is free.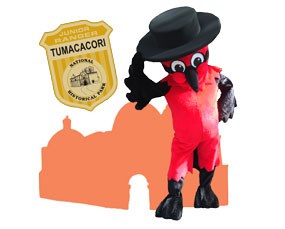 Junior Ranger Day
Saturday, April 13, 2019
10:00 a.m. to 1:00 p.m.
Kick off National Park Week with youngsters. All ages welcome to enjoy a day to play, create, learn, and protect! Dress for mess and go home with fabulous prizes.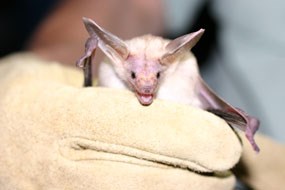 Bat Night
Wednesday, April 17, 2019
7:00 p.m. - 8:30 p.m.

Spring is the season bats return from their annual migration south or begin to emerge from hibernation. This unofficial holiday is a great time to explore the role bats play in nature and how scientists are working to learn about and conserve bat populations. Park visitors on "Bat Night" will be able to explore the benefits of bats, sample some foods pollinated by bats, learn from bat biologists, create a bat craft, and go on a nature walk in search of active bats on the hunt.
Last updated: April 17, 2019