Date:
September 8, 2016
Contact:
Anita Badertscher
, 520-377-5063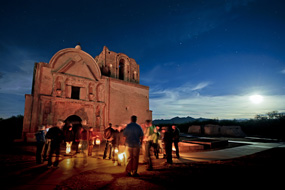 The skies of southern Arizona are famous for clear, dark nights, perfectly suited to the study of the heavens. Whether by the glow of a full moon or the sparkle of stars, Tumacácori is a beautiful place to enjoy the night. Beginning with the first Full Moon Night on September 16, Tumacácori National Historical Park will again open its doors to visitors on selected evenings.
Once each month from September through February, the park will stay open until 8:30 p.m. to celebrate the full moon. Visitors can stay late to watch the lengthening shadows and moonrise over the tree canopy. At 6:30 p.m. each night, a ranger will also offer a free, candle-lit tour of the mission grounds. The first program on September 16th is titled "What Did Father Kino See?" and explores the complex relationship that Tumacácori's first astronomer had with the night skies. Future programs may feature music, bats, and camp cooking. Call the visitor center for more details.
Visitors are encouraged to bring layered clothing flashlights, binoculars, and cameras.
Admission to the park is $5.00 per adult, free for federal pass holders and children under age 16.For more information, call the visitor center at (520) 377-5060, or visit the park website at nps.gov/tuma.