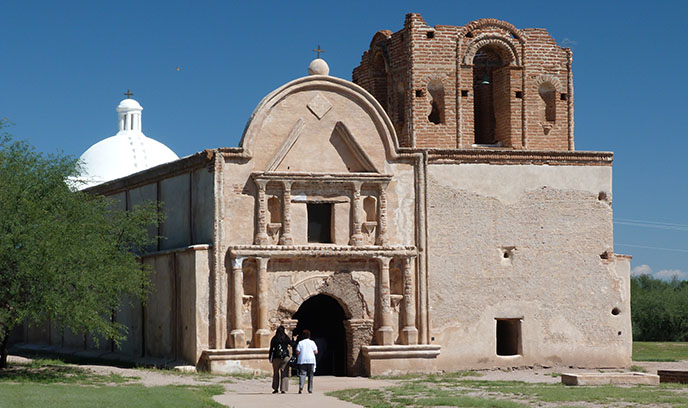 News Release Date:
October 6, 2014
Contact: Visitor Center, 520-377-5061
Summers can be quiet in southern Arizona parks, but as the temperature drops, the visitors and volunteers return."Tumacácori has a very busy calendar in the coming months," says Superintendent Bob Love, "Fall is a perfect time to enjoy the mission, river, and new programming the park has developed."
October sees the return of the popular tortilla demonstrators on weekends and the morning bird walks on Saturdays. Visitors can observe rare migrant birds, as well as old favorites, with the help of a guide on Saturdays in October, beginning October 11th at 8:30 a.m. at the Visitor Center.Bird walks are two hours long and take place on- and off-trail in varied habitats.Wear comfortable walking shoes and bring water.
This fall also kicks off the Full Moon, Starry Saturday, and Sunrise Opening schedule for visitors and artists interested in experiencing the mission grounds outside of their normal operating hours of 9:00 a.m. to 5:00 p.m.Evening programs and early openings occur once each month from October through March.Times vary as the season progresses, so check the schedule online at www.nps.gov/tuma for more details.
On Saturday, October 18, Tumacácori will host a commemorative Mass inside the mission church in conjunction with Tubac Presidio State Historic Park's annual Anza Day celebration. Admission to the park is free during the service, beginning at 10:00 a.m.
The service commemorates the expedition led by Tubac Presidio Captain Juan Bautista de Anza to establish a presidio and community on the San Francisco Bay in Álta California. On the morning of Sunday, October 22, 1775, Franciscan Friar Pedro Font, priest for the expedition, assisted by Friar Francisco Garces of the Tumacácori Mission sang the mass for the settlers "for the success of the expedition."The service conducted by Father Alex Mills of Saint Ann's Church inside the Tumacácori Mission church commemorates this historic mass. Participants are invited to wear Spanish style clothing such as would have been worn in 1775.
A variety of family-friendly activities will take place at Tubac Presidio State Historic Park throughout the day. For more information regarding the commemorative Mass, call Tumacácori National Historical Park, (520) 377-5060. For information on Anza Day activities at the State Park, call Tubac Presidio Park, (520) 398-2252.
-more-
How is a small park like Tumacácori able to offer such a wide variety of experiences for visitors this season?Volunteers make it possible. This year, the park will offer a Volunteer Open House the morning of November 5th. Returning staff, visitors, and neighbors wanting an insider's view of the park operation are welcome to participate. Meet at the park at 8:30 a.m. for coffee and snacks and bring a dish to share if you'd like to join the potluck lunch at noon.Wear comfortable shoes and your thinking cap!
Starting on October 1st this year, for the protection of the archeological and historic resources of Tumacácori, pets (with the exception of service animals) will no longer be permitted entrance to the Visitor Center or mission grounds.
All programs are free to public, with entrance to the park at $3.00 per adult, free for federal pass holders and children under age 16.