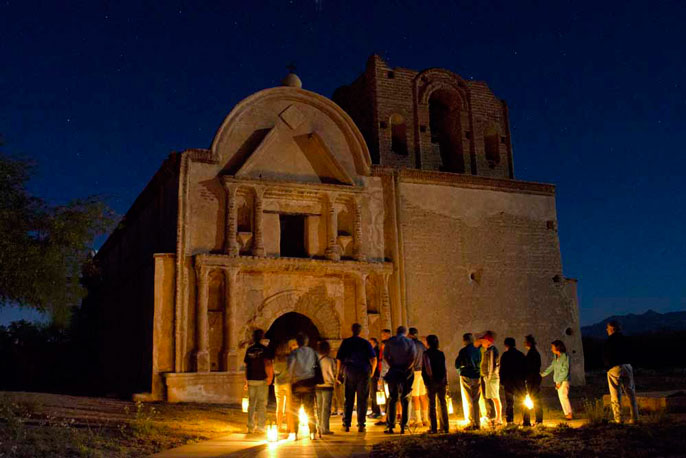 News Release Date:
June 23, 2014
Contact: Melanie Rawlins, 520-377-5064
For the first time since its establishment as a national park, campers seeking overnight shelter will be invited to stay the night within the walls of Mission San José de Tumacácori. "Camping out under the stars is a beloved tradition in national parks," says Superintendent Bob Love, "We are so excited to offer visitors the chance not just to camp here at Tumacácori, but to experience this place the way travelers did over one hundred years ago."   
For nearly 60 years the ruins of Tumacácori stood as a welcome waypoint for travelers. Gold-seeking 49ers passed here on their way to California. Military troops (including then Lieutenant John J. Pershing) left soot from their campfires on the walls of the sacristy. Ranchers turned the cemetery, or campo santo, into a corral to keep their animals safe overnight. The crumbling church would have been a welcome sanctuary for anyone passing through rugged terrain, scorching temperatures, or the downpour of a summer monsoon.
Tumacácori National Historical Park now offers families the opportunity to share this experience. Starting at 6:00 p.m. on July 12th, participants will share traditional meals, create memory books much like the journals of early travelers, sing cowboy songs around the campfire, and then retire for the evening to tell ghost stories in the candlelit church. At lights-out, these lucky families will curl up on their bedrolls to spend the night under the stars or sheltered by adobe walls built over 200 years ago. Unlike their historic predecessors, however, these campers will depart by 8:30 a.m. having left no evidence of their overnight stay.  
Registration is first-come, first-served and space will be limited. An $18charge applies to each adult participant ($8 for children under the age of 16) and includes entrance to the park, dinner, breakfast, and all activities. To learn more about this unique opportunity and to register, call 520-377-5064 or visit www.nps.gov/tuma.