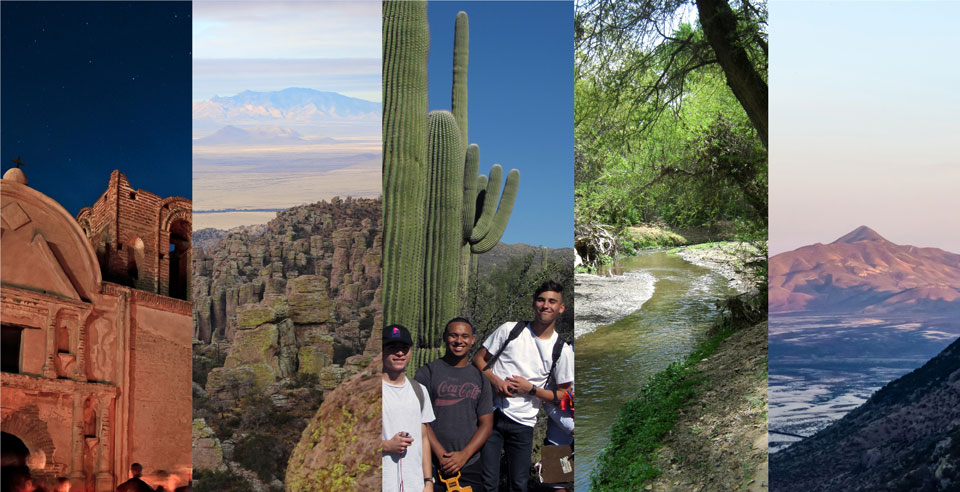 News Release Date:
August 14, 2017
Contact: Melanie Rawlins, 520-377-5064
Five park units in southern Arizona – Tumacácori National Historical Park, Saguaro National Park, Coronado National Memorial, Chiricahua National Monument, and the Juan Bautista de Anza National Historic Trail – want to know how young people experience their public lands. They are calling for participants in this year's Southern Arizona Youth Outdoor Summit.
A "youth summit" is a chance for parks and young neighbors to share experiences, ideas, and problem-solving. Participants will examine real-world issues at stake in public lands across southern Arizona. A select cohort of high school students will be recruited from each park's local area: Santa Cruz County (Tumacácori and Anza Trail), Pima County (Saguaro), and Cochise County (Coronado and Chiricahua). The three cohorts come together for a week of camping, exploring, and volunteer service across southern Arizona. Each site offers the group a question. For example, as students glove up to clean and restore a badly damaged cave, they will explore, "What level of access to sensitive resources provides a balance between protection, preservation, and enjoyment of national parks?" Having examined 21
st
 century issues and challenges of national parks in their neighboring communities, participants will engage in a facilitated dialogue with park and local government officials to recommend steps to take for the next 100 years.  
The calendar begins with a welcome night for families on 
September 27
 and the weeklong session for participants beginning 
Sunday, October 8th.
 Saguaro National Park will host the graduation ceremony on 
Saturday, October 14
, when families will reunite, reminisce, and celebrate their accomplishments while giving parks needed insight into the next generation of public land stewards. 
The youth summit is 100% free and open to any current high school student in Santa Cruz, Pima, or Cochise County. All travel, gear, and meals will be provided. Graduates of the summit will receive an Interagency Annual Pass, providing free entrance to all national parks and federal lands for a full year, as well as 60 hours of community or volunteer service credit. Plus, each will have gained a network of peers and land management professionals to help advance their academic and career pursuits.  
Applications are due 
September 1, 2017
. For more information, applications, FAQs, and dates, call Tumacácori National Historical Park at 520-377-5064, or visit the park website, at 
nps.gov/tuma
.  
---
Cinco unidades del Servicio de Parques Nacionales del sur de Arizona - Parque Nacional Histórico de Tumacácori, Parque Nacional Saguaro, Monumento Nacional Coronado, Monumento Nacional Chiricahua, y el Sendero Histórico Nacional Juan Bautista de Anza - quieren saber sobre las experiencias de jóvenes en los terrenos públicos. Ellos buscan participantes para el "Southern Arizona Youth Outdoor Summit."
Un "Youth Summit" provee la oportunidad para que los parques y vecinos jóvenes compartan experiencias, ideas y resolución de problemas. Los participantes examinarán las cuestiones del mundo real que están en juego en tierras públicas en todo el sur de Arizona. Se buscan estudiantes de secundaria en el área local de cada parque: Condado Santa Cruz (Tumacácori y Sendero Anza), Condado Pima (Saguaro) y Condado Cochise (Coronado y Chiricahua). Todos los participantes se reunirán durante una semana de campamento, exploración y servicio voluntario en el sur de Arizona. Cada sitio ofrece al grupo una pregunta. Por ejemplo, mientras los estudiantes se preparan para limpiar y restaurar una cueva muy dañada, explorarán, "¿Qué nivel de acceso a los recursos sensibles provee un equilibrio entre la protección, preservación y el disfruto de los parques nacionales?" De los parques nacionales en sus comunidades, los participantes participarán en un diálogo facilitado con los funcionarios de los parques y del gobierno local para hacer recomendaciones de pasos para seguir en los próximos 100 años.
El programa comienza con una noche de bienvenida para el participante y su familia el 27 de septiembre y continua con la sesión de una semana para los participantes a partir del domingo 8 de octubre. La ceremonia de graduación se tomara acabo en el Parque Nacional Saguaro el sábado 14 de octubre. Durante la ceremonia se invitan las familias de los participantes para celebrar su contribución a este programa y por dar a los parques una visión necesaria tocante la próxima generación de administradores de tierras públicas.
El "Youth Summit" es 100% gratis y abierta a cualquier estudiante de secundaria en los condados de Santa Cruz, Pima o Cochise. Todos los viajes, equipo y comidas serán proporcionados. Los graduados del programa recibirán un Pase Anual, que proveerá acceso gratis a todos los parques nacionales y terrenos federales por un año completo, así como 60 horas de crédito para servicios comunitarios o voluntarios. Además, cada uno habrá establecido
una red de compañeros y profesionales para ayudar a avanzar sus actividades académicas y profesionales.
Para más información, solicitudes, preguntas frecuentes y fechas, llame al Parque Nacional Histórico de Tumacácori al 520-377- 5064, o visite el sitio web del parque, en nps.gov/tuma.