News Release
Junior Ranger Day 2018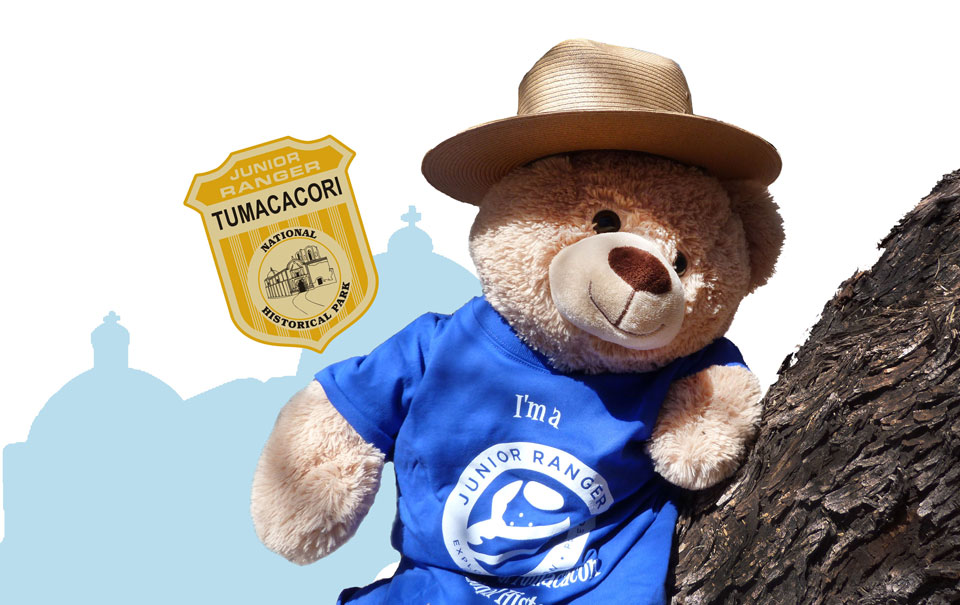 News Release Date:
April 4, 2018
Contact: Melanie Rawlins, 520-377-5064
Tumacácori sets aside a special day each year to honor its youngest visitors. On Saturday, April 21 from 10:00 a.m. to 1:00 p.m., Junior Rangers of all ages will be able to play, create, and learn from special activities on the mission grounds. Families can spend the morning with hands-on games, crafts, and programs while enjoying free admission all day.

"If you've ever wondered how a historical park like Tumacácori could be kid-friendly, come to Junior Ranger Day," says superintendent Bob Love "This park is all about family and the things that young people love like animals, games, and food." Go head-to-head with friends on a traditional O'odham pottery race. Cool off in the monsoon tunnel or with an authentic Tumacácori raspado. Create works of art in clay, mud, paint, and fabric. Cultivate wildflowers that attract butterflies and hummingbirds. Meet and feed real heritage livestock. More than 20 different games will be available for all ages, abilities, and interests.

Each game, activity, or craft gets you closer to prizes such as pins, badges, stickers, and books. The first fifty Junior Rangers to complete all activities will go home with the grand prize, a limited-edition Junior Ranger Day T-shirt.

For more information on Junior Ranger Day or other events and activities at Tumacácori National Historical Park, call 520-377-5060, or visit the park website, at nps.gov/tuma.
 
---
Tumacácori reserva un día especial cada año para honrar a los visitantes más jóvenes. El sábado,  21 de abril de 10:00 a.m. a 1:00 p.m., Joven Guardaparques de todas edades podrán jugar, crear,  y aprender durante actividades especiales en los terrenos de la misión. Familias pueden pasar la mañana con  juegos, manualidades y programas mientras disfrutan de entrada gratuita todo el día.
 
"Si alguna vez se ha preguntado cómo un parque histórico como Tumacácori podría ser adecuado para los niños, venga al Día de Joven Guardaparques", dice el superintendente Bob Love. "Este parque tiene que ver con la familia y las cosas que los jóvenes aman como animales, juegos y comida". Compite con amigos en una carrera tradicional de cerámicas O'odham. Refréscate en el túnel monzónico o con un raspado.

Crea obras de arte en barro, pintura y tela. Cultiva flores silvestres que atraigan mariposas y colibríes. Conoce y alimenta ganado patrimonial. Más de 20 juegos diferentes estarán disponibles para todas las edades, habilidades e intereses.
Cada juego, actividad o manualidad que realices te proporcionara la oportunidad para ganar premios como broches, placas, calcomanías y libros. Los primeros 50 Joven Guardaparques que realicen todas las actividades se irán a casa con el gran premio, una camiseta de Día de Joven Guardaparque de edición limitada.

Para más información sobre el Dian de Joven Guardaparques o otros eventos en el Parque Nacional Histórico de Tumacácori llame al (520) 377-5060, o visite nuestro sitio web: nps.gov/tuma. 
Last updated: April 4, 2018