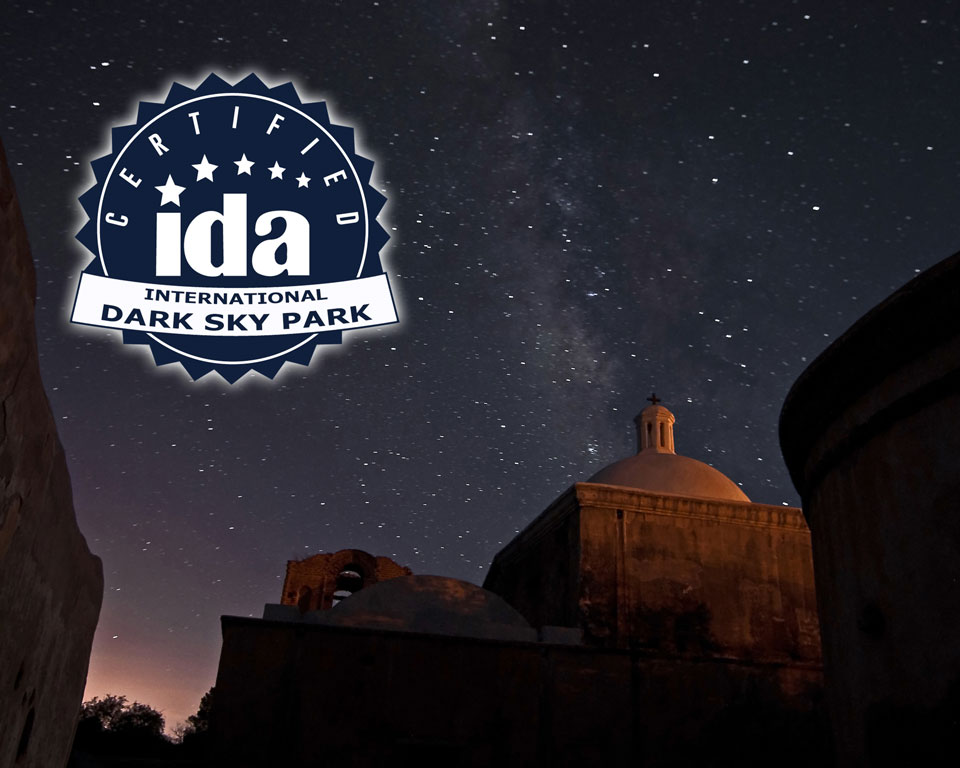 News Release Date:
July 25, 2018
Contact: Melanie Rawlins, 520-377-5064
In the kickoff to its season of day and evening programs, Tumacácori National Historical Park (NHP) will be celebrating its newly designated "Dark Sky Park" status with an event on Sunday, August 12th, from 7:30 p.m. to 9:30 p.m.

Tumacácori NHP serves as a role model in the conservation of night skies. "Tumacácori has enjoyed a long history of night sky scholars and enthusiasts visiting the mission," said park Superintendent, Bob Love. "Native people, astronomers like Father Kino, and settlers and cowboys who may have stopped to camp at the mission, all looked to the sky at night. Our designation as an International Dark Sky Park protects that experience for current and future generations."

IDA's recognition program began in 2001 with the designation of Flagstaff, Arizona, as the world's first International Dark Sky Place, and the first International Dark Sky Community. Awards are made competitively on the basis of a written nomination to IDA, and judged according to merits such as night sky quality and proactive efforts to promote the benefits of natural nighttime darkness.

Sunday's evening event will take place during the Perseid Meteor Shower, a celestial event that occurs each summer during a dark stage of the moon. Rain or shine, the celebration will feature park scientists, astronomers, dark sky supporters, and volunteers serving up all things night-related. Expect an array of telescopes, binoculars, a hands-on art project, and refreshments like "Perseid's Punch." Learn how you can conserve the values of dark night skies at home and in your community, too.

The park closes as usual at 5:00 p.m., but will re-open and waive entrance fees from 7:30 p.m. to 9:30 p.m. Visitors should bring a flashlight (with a red filter, if possible), comfortable shoes, and a mat or lawn chair to relax on and enjoy the night sky. For more information, call 520-377-5060 or visit www.nps.gov/tuma.
---
Para iniciar la temporada de programas de día y de noche, el Parque Nacional Histórico (PNH) de Tumacácori  celebrará su nueva designación como "parque de cielo oscuro" el domingo 12 de agosto a partir de las 7:30 p.m. hasta las 9:30 p.m.
 
El PNH de Tumacácori sirve como un modelo en la conservación de los cielos oscuros. "Tumacácori ha disfrutado de una larga historia de profesionales e fanáticos del cielo oscuro que visitan la misión," dijo el Superintendente del parque, Bob Love. "Los indígenas, astrónomos como el Padre Kino, y los colonos y vaqueros que se habían detenido para acampar en la misión, todos miraban hacia el cielo por la noche. Nuestra designación como Parque Internacional de Cielos Oscuros protege esa experiencia para las generaciones de hoy y del futuro."
 
El programa de reconocimiento de la Asociación Internacional de Cielos Oscuros (IDA) comenzó en 2001 con la designación de Flagstaff, Arizona, como el primer sitio Internacional de Cielos Oscuros del mundo, y la primera Comunidad Internacional de Cielos Oscuros. Reconocimientos se adquieren por un proceso competitivo a base de una nominación escrita a IDA, y se les juzga según sus méritos, tales como la calidad del cielo oscuro y los esfuerzos proactivos para promover los beneficios de la oscuridad nocturna natural.
 
El evento en la tarde del domingo se realizara durante la lluvia de meteoros conocida como las perseidas, un evento celestial que ocurre cada verano durante la etapa oscura de la luna. Lluvia o sol, la celebración contará con científicos, astrónomos, partidarios del cielo oscuro y voluntarios que estarán sirviendo botanas de cosas relacionadas con la noche. Espere una variedad de telescopios, binoculares, un proyecto de arte y refrescos como "ponche perseidas". También aprovecha para aprender sobre cómo conservar los valores del cielo oscuro en tu hogar y comunidad.
 
El parque cierra a las 5:00 p.m, el horario regular. Las puertas volverán a abrir de las 7:30 p.m. a las 9:30 p.m. Admisión será gratuita durante este tiempo. Se les recomienda a visitantes que traigan un farol (con filtro rojo, si es posible), zapatos cómodos y una silla de jardín o cobija para relajarse y disfrutar del cielo oscuro. Para obtener más información, llame al 520-377-5060 o visite www.nps.gov/tuma.