Date:
September 26, 2014
Contact:
Visitor Center
, 520-377-5060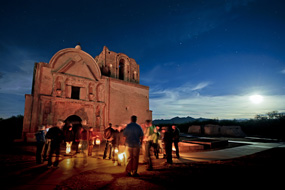 The historic mission grounds at Tumacácori National Historical Park will be open under the light of a full moon on the evening of Wednesday, October 8. The park will be open as usual from 9:00 a.m. to 5:00 p.m., reopening from 6:00 p.m. to 8:00 p.m. for visitors to enjoy the evening on the peaceful mission grounds.
Featured at Tumacácori for the first time during this month's Full Moon Night will be a special photography workshop, "Night Photography and Historic Places," led by photographer Anu Condon, owner of ARC Photography in Tucson. Beginning at 6:30, the workshop will include a short talk on the principles of night photography followed by practical "how-to" guidance and a photographic assignment within the park. 
Suggested equipment includes a camera with manual controls, sturdy tripod, wired or wireless remote, and a flashlight. There is no additional charge for the workshop, but space is limited;call the Tumacácori visitor center at (520) 377-5060 to register for this fantastic opportunity. 
Admission to the park is $3.00 per adult, free for federal pass holders and children under age 16.