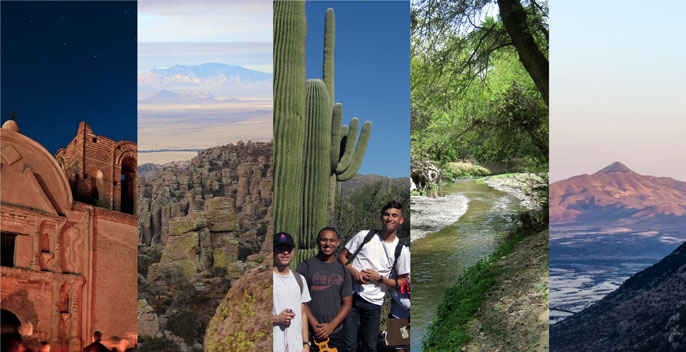 News Release Date:
April 13, 2016
Contact: Melanie Rawlins, 520-377-5064
As parks across the country celebrate the centennial of the National Park Service, many ask, "How will national parks stay relevant in their next 100 years?" Five park units in southern Arizona –Tumacácori National Historical Park, Saguaro National Park, Coronado National Memorial, Chiricahua National Monument, and the Juan Bautista de Anza National Historic Trail –will engage young people to help answer that question.
A "youth summit" is a chance for parks and young neighbors to share experiences, ideas, and problem-solving. Participants will examine real-world issues at stake in public lands across southern Arizona. A select cohort of high school juniors and seniors will be recruited from each park's local area: Santa Cruz County (Tumacácori and Anza Trail), Pima County (Saguaro), and Cochise County (Coronado and Chiricahua). The three cohorts travel to meet at different park sites on scheduled weekends. Each overnight site visit includes a campout, service project, educational programming, and site-specific question. For example, students might glove up to clean and restore a badly damaged cave while asking the question, "What level of access to sensitive resources provides a balance between protection, preservation, and enjoyment of national parks?" Having examined 21st century issues and challenges of national parks in their neighboring communities, participants will engage in a facilitated dialogue with park and local government officials to recommend steps to take for the next 100 years.
The calendar begins with a welcome session with families on August 10. Four camping trips (August 20-21, September 10-11, September 24-25, and October 1-2) take participants to explore 21st century issues with hands-on and experiential projects. Graduation on the evening of Friday, October 21 will celebrate their accomplishments while giving parks needed insight into the next generation of public land stewards.
The youth summit is 100% free and open to any rising high school junior or senior in Santa Cruz, Pima, or Cochise County. All travel, gear, and meals will be provided. Graduates of the summit will receive an Interagency Annual Pass, providing free entrance to all national parks and federal lands for a full year, as well as 60 hours of community or volunteer service credit. Plus, each will have gained a network of peers and land management professionals to help advance their academic and career pursuits.
Applications are due May 31, 2016. For more information, applications, FAQs, and dates for camping trips, call Tumacácori National Historical Park at 520-377-5064, or visit the park website, at nps.gov/tuma.